The tribute was staged at the Imperial Theatre on May 2, 1975, by the Friends of the Theatre and Music Collection of the Museum of the City of New York. Many people sang songs from Logan's shows or told anecdotes about him, including his Princeton University mate Jimmy Stewart, as well as Larry Blyden, Sheila Bond, Nell Carter, Diosa Costello, Douglas Fairbanks, Jr., Jose Ferrer, Henry Fonda (who made the opening remarks for the Gala with Jimmy Stewart), Lee Goodman, Dolores Gray, Dorian Harewood, Maria Karnilova, Jane Pickens Langley, Avon Long, Patricia Marand, Ethel Merman, James Michener, Phyllis Newman, Harold Rome, Walter Slezak, Dorothy Stickney, Ray Walston, Walter Willison. Stanley Glover, Albert Hague, Betsy Palmer, Tom Perkins, Tom Tryon, Nancy King Zeckendorf, and Zorina. Many of these songs and remarks were included on an album of the event.
A large group of dancers and singers supported the main cast. Those listed in the playbill included Gian Carlo Eposito, Debby Feezel, Vicki Geyer, Yolande Graves, Richard Hamilton, Richard T. Herd, Helen Jennings, Christy Laurence, Geoffrey Leon, Johanna Lockwood Lester, Rudolf Lowe, Betty Lynd, Randy Martin, Justin McDonough, John Otis, Pamela Palluzzi, Lacy Darrell Phillips, Sandra Phillips, Janet Powell, Orrin Reilly, Kenneth H. Roberts, Gil Robins, Arlen Dean Snyder, Peter Turgeon, and Jaison Walker. Listed on the album jacket, but not the playbill were Benay Venuta, The Miss Moffet Company, and Nedda Logan (Josh's wife).
The show was staged like a normal Broadway play, including a Playbill, even though it was just a one night presentation. The show's credits include:
Conceived and Produced by Anna Sosenko
Staged by Donald Saddler
Musical Direction by Colon Romoff
Lighting Design by Jane Reisman
Sound Designed by Abe Jacob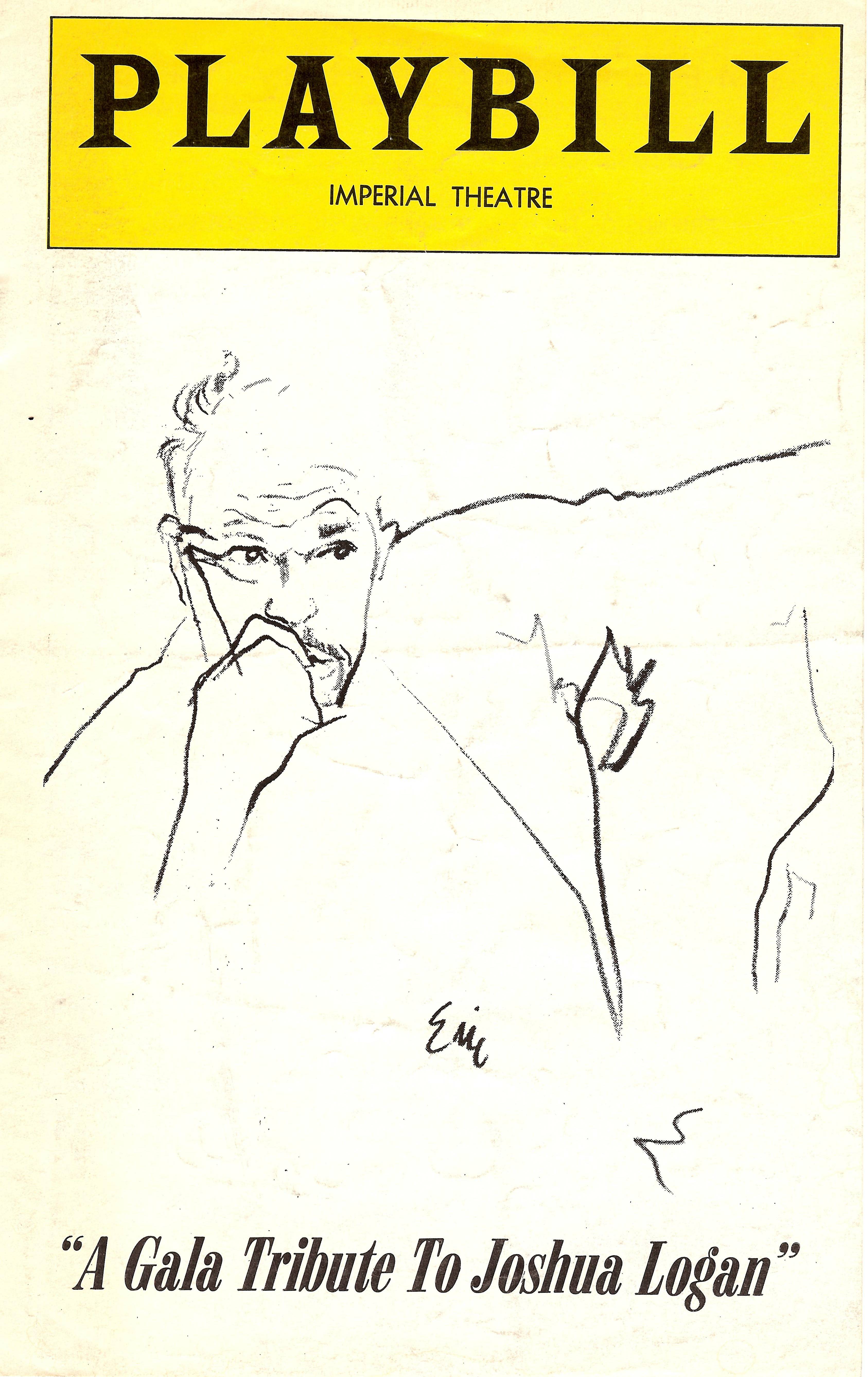 The tribute was recorded and the 2-record set made from the recording was given to donors to the Museum of the City of New York. Coughs, sneezes, and talking by members of the audience can be heard throughout. The record labels were marked "Demonstration Recording; Not for Sale or Public Performance."
The Museum of the City of New York – Friends of the Theatre and Music Collection (1975)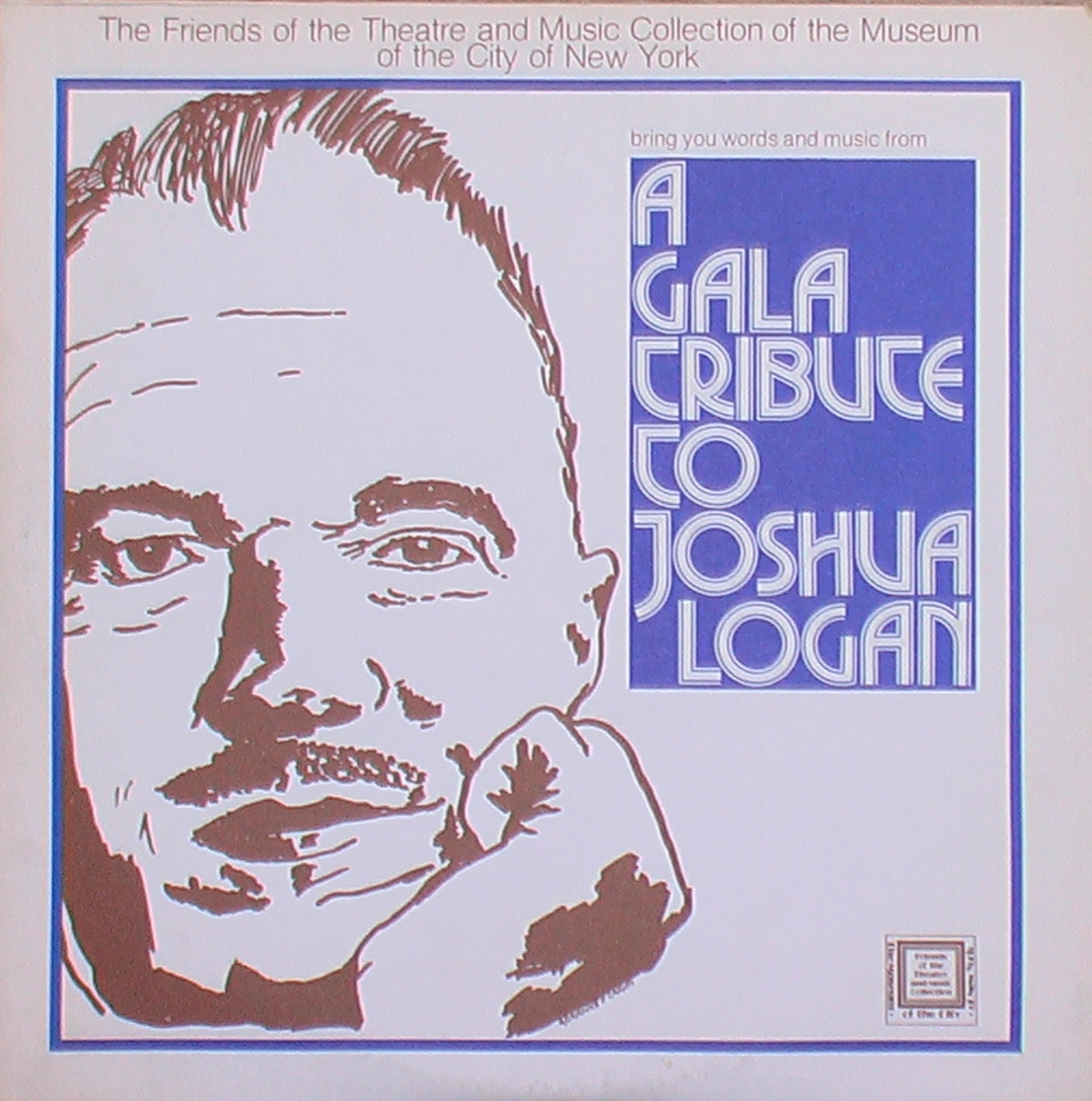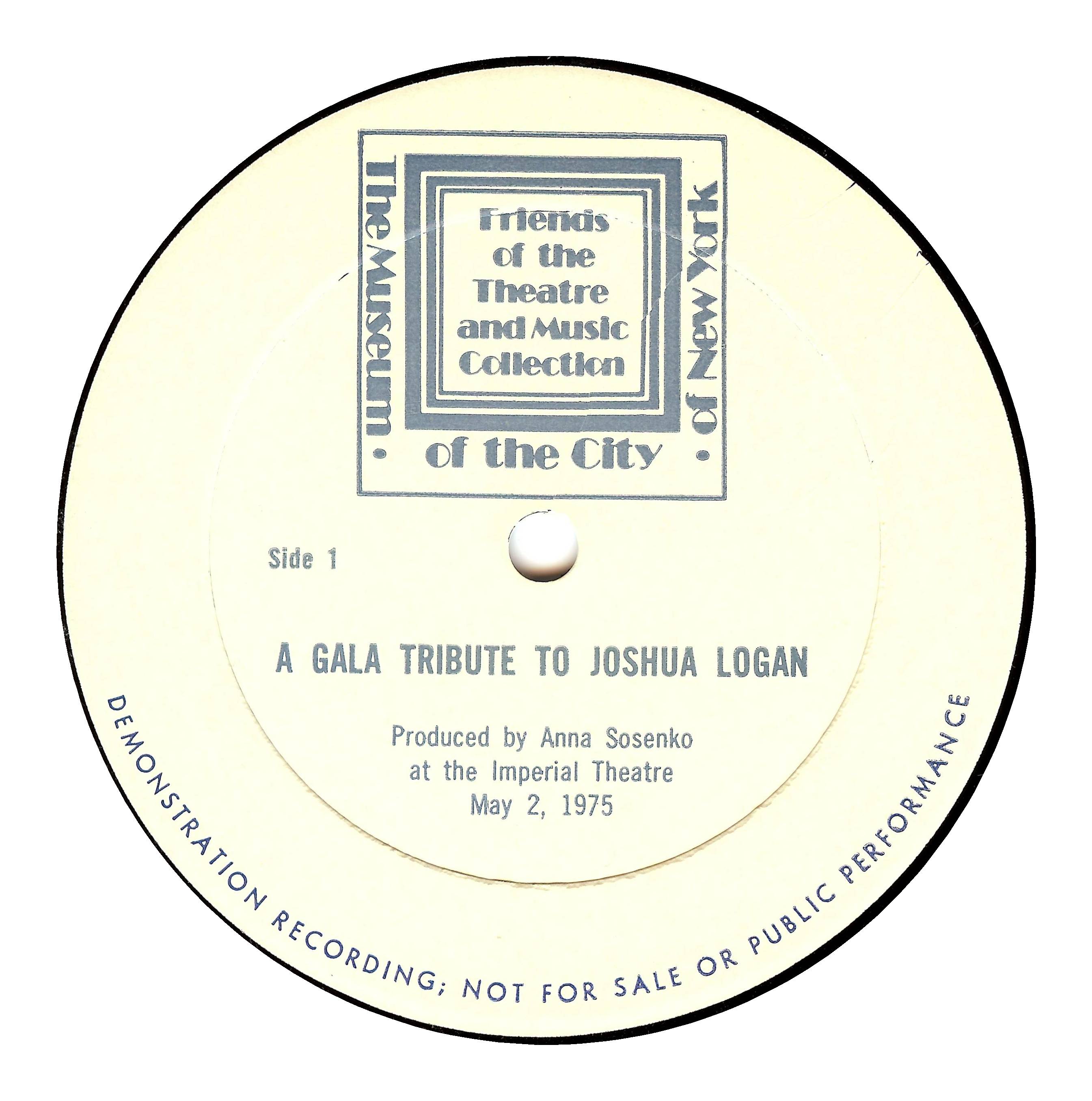 The album's credits include:
Produced by: Anna Sosenko
Staged by: Donald Saddler
Musical Director: Colin Romoff
Cover Design: Adrienne Carlin
Jimmy Stewart and Henry Fonda open the show. Their introduction was as follows – listen and follow along:
STEWART: Hank, why are we here?
FONDA: I guess it has something to do about that rumor that's been running around about Josh putting us in the business.
STEWART: Oh…oh…well that…well I…I…
FONDA; Did he have anything to do with you?
STEWART: Well, I don't know. I…I can remember he wrote a part for me in the Princeton Triangle Club when I was a junior and then he called up my dad and talked him out of making me work in the hardware store that summer so I could go up to Cape Cod with the University Players. And Josh was with that outfit up there. And then I got to ah…I got to Broadway …ah…outta that, but I don't see how that has anything to do with Josh getting us into show business.
FONDA: Funny how rumors get started.
STEWART: Yeah.
FONDA: I was with the University Players. How it was, was…ah…Josh was playing two parts and he …ah…he gave one of them to me…a fellow named Tornaquenchy.
STEWART: Torna who?
FONDA: Quenchy…it was an Italian nobleman.
STEWART: With a Nebraska accent.
FONDA: I wasn't very good. But, it wasn't…it wasn't really generosity or anything 'cause Josh wanted to play the other part. It was the executioner…he got to take his shirt off.
STEWART: Oh, so that's where all that stuff got started.
FONDA: Ah…I read you were gonna sing and dance tonight.
STEWART: Oh, no. I'm not gonna sing and dance Hank. This is a film…come on fellas roll away…whatever you do. I made this film 20 years ago and Josh wrote the tune I sing and music and he wrote…he did the choreography and he wrote the whole scene, but I don't see what that has to do with Josh getting us into show business. (Over the ending of Jimmy's line, a film starts and we can hear a young Stewart begin to talk). Ladies and gentlemen, I'm going to sing a song for you from our show that opens here tonight. The name of the show is The Tiger Smiles and it was written by an undergraduate by the name of Josh Logan and the name of the song I'm gonna sing for you is called On a Sunday Evening. Now the show takes place in Princeton, 1890…that's the reason I'm dressed like this…and I sing the song to Rosemary Simpkins. She's a very beautiful young girl…the Dean's daughter. Now this part is also played by an undergraduate…a very nice fella by the name of Harry Summers. Oh Harry, would you come out here. Well…ah…Harry. You see, the Princeton Triangle Club is made up of young men between the ages of…oh…18 and 21. And, since we don't have any girl students at Princeton, we have to, of necessity, use the boys playing the girls' parts. Eh…yes…well now are we all ready. Is the Army Police Quartet ready? (Voice – "yep.") Fine. Alright now, Bruce is strolling down the lane and he spies Rosemary and he says, "Good evening Miss Simpkins."
SUMMERS: Good evening, Bruce.
STEWART: She called me Bruce. Miss Simpkins, it's Sunday evening, and if you'll remember, Sunday evening was the night we first met.
SUMMERS: It was a Sunday evening, wasn't it?
At this point, Jimmy sings On a Sunday Evening.
Stewart returns at the beginning of side four of the record. This time he is introduced by Phyllis Newman  after which he tells the "Harvey story."
Josh kind of thought maybe it might be nice if I'd…ah…if I'd tell you again, how I found out that rabbit's name was Harvey. It's kind of an interesting circumstance. I was…I was…oh… a couple of years ago walking down the street, Sycamore Street between 18th and 19th. I had just put Ed Hickey into a taxi cab. Ed had been mixing his rye with his gin and well…he…I just thought he needed conveying. And…and…I was walking out on the street and I suddenly heard this voice behind me. Well, it said, "Good evening Mr. Dowd." And I turned around and here was this great big tall white rabbit leaning up against a lamppost. Well, I though nothing of that because when you've lived in a town as long as I've lived in this one, you get used to the fact that everybody knows your name. I…I naturally went over to talk to him and he said to me, he said, Ed Hickey was a little spiffed this evening, or could I be mistaken? Well, of course, he was not mistaken. I think the world and all of Ed, but he was spiffed. Woo…. Anyway, anyway, we talked and then I went over and I asked him. I said, you have the advantage on me. You know my name and I don't know yours. And he said, what name do you like? Well, I didn't…I didn't have to even think twice about that. Harvey's always been my favorite name. So, I said to him…I said, Harvey. And…ah…and, this is the interesting part of the whole thing. He said, what a coincidence, my name happens to be Harvey. And that's the way it happened.
Stewart and Fonda are back for the next-to-last track on the album. They are introduced by Logan himself.
LOGAN: And now …ah…ah…Mr. Stewart and Mr. Fonda, will you come on stage please. Will someone take this away please. And I just wanted to say that true to an inborn sense of showmanship, we have saved the worst for the last. As you recall, Jimmy Stewart started our show by singing and dancing a song I wrote for his junior year…the Triangle Club show…where he sang On a Sunday Evening. Later on in that show, Jimmy and I sang together an Indian song…a redskin love song …ah…called Mini Ha Ha. It was a very original title. And the song is very original too. And we have asked Hank to join us. Because he was there at the time…he was around…ah…he was around at the time…ah…you know, all the time, because…ah… we knew him, and although he wasn't in the show, we decided to have him with us tonight because I believe in the old adage, there's safety in numbers.
The three of them then do their best to sing Mini Ha Ha.