The final new Bob Hope Show had been broadcast in April of 1955. NBC kept the show on its schedule for the new season beginning in September, 1956. However, these shows were repeats. The same regulars, Margaret Whiting and Les Brown and his Band of Renown, were used for these programs. Guests stars, some from many years in the past, were edited into the shows.
This new series of repeats began to air on September 21, 1956. This article from that date appeared in The Cincinnati Enquirer, Cincinnati, OH.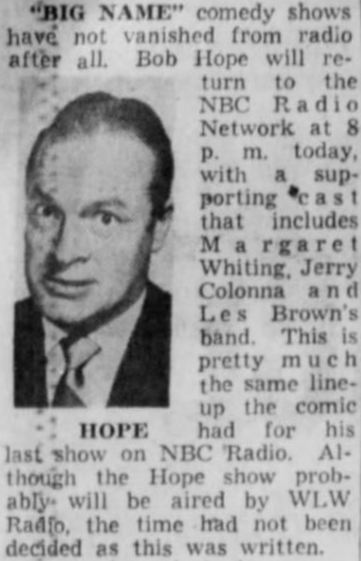 A previous broadcast Jimmy Stewart segment was used in this program. Since this show is not available, it is not known from which previous show the Stewart sketch is taken. This listing for the program is from the Arizona Republic, Phoenix, AZ.