Let's begin with a new radio item discovered after the book Jimmy Stewart on the Air (BearManor Media) was published in 2012.
This item is a 12-inch vinyl record (SP 1127) issued by Columbia Pictures to help promote the film, Anatomy of a Murder.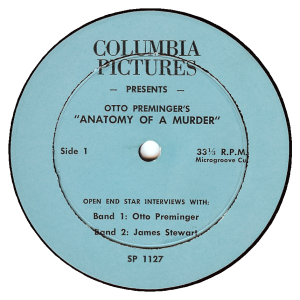 The disc features four open end interviews. One with the the film's director, Otto Preminger and one with each of the film's main stars – Jimmy Stewart, Lee Remick and Joseph N. Welch. If you are unfamiliar with an open end interview, the concept is really quite simple. The star answers a series of specially prepared questions. These printed questions are sent, along with a recording of the star's answers to radio stations. The local announcer can then ask the questions and play the appropriate pre-recorded answers, thus making it appear as if the star is actually being interviewed by the disc jockey.
Listen to this interview and follow along with the announcer's script and Mr. Stewart's answers below:
ANNOUNCER: We are on location where the production company of Anatomy of a Murder is currently being filmed. Anatomy of a Murder, last year's #1 best seller is being brought to the screen by Otto Preminger and we have been lucky to catch James Stewart between takes so that we can find out a little about what's actually happening here on location. Jimmy, It's nice to talk to you.
STEWART: This is something new. I think there's always something new in the movies and this is something new for all of us.
ANNOUNCER: It is an amazing thing to take over an entire courthouse and now you are almost taking over the whole jail where you were just shooting a scene.
STEWART: Yes, I think these people are the most tolerant people up here that I have ever seen. They are holding court in some other building in the town. The poor sheriff, he almost got locked out of his own jail here yesterday when we sort of descended on the jail. We have a couple of scenes in the sheriff's office. He came in and sort of threw up his hands this morning when he saw his office was all our lights and cameras. We'd torn out a couple of chests of drawers he has and everything but they all seem to think that it's perfectly all right and let us do whatever we please.
ANNOUNCER: Jimmy Stewart, how do you feel about working out on location as compared with the confines of a Hollywood studio?
STEWART: Well, the convenience of the Hollywood studio makes for much better…for much more efficiency in making the picture. It's pretty hard to tell what the pluses are. Whether the advantage that you get from photographing something in the actual location is enough to make up for the real efficiency that you get in the shooting on sound stage.
ANNOUNCER: Of course, that brings us to the dividing line between reality and actual stage setting. The dividing line that's always been talked about where the personality of James Stewart ended as an actor and where it began as a personality. Have you ever analyzed it?
STEWART: No, it's pretty hard to analyze that. I know a lot of people come up and say…mention the thing about being natural. Well, this is sort of a misnomer, I think, because as you just said here there isn't really anything too natural about even this court-room once a movie company gets into the place. There isn't anything too natural about doing this same scene, and saying the same lines ten or twenty times. It's a skill and making it appear natural to people who pay and come and see you is part of this skill.
ANNOUNCER: Well, that's one thing among many that you've been given credit for. They say, when James Stewart reads a line it always sounds as though he's ad-libbing it, as though he's never rehearsed it. And I suppose to get that unrehearsed quality you've got to go over it a number of times…or do you?
STEWART: Yes, yes you do, but going back to the skill thing, I think it is part of experience…it's part of learning your trade. The idea of saying lines, the idea of sort of mimicking somebody…now I'm playing a part of a lawyer here. Judge Voelker, who wrote the story of Anatomy of a Murder is right here. Actually, it's more or less biographical. It's his story. But the idea of mimicking him or mimicking sort of the way he handles a case or something, this isn't my job. My job is to give the audience the impression that I'm a lawyer and I'm trying this case and in order to do that you have to sort of base your efforts on experience and on skill.
ANNOUNCER: I think this is the first picture where you've worked opposite an Actors' Studio product, Ben Gazzara, and of course, in the past you've had some unkind words, not for the Actors' Studio, but for actors who thought they were actors because they wore sweaters and, of course, we are not referring to Ben Gazzara. But now having seen an actor from Actors' Studio in action, how do you feel about them?
STEWART: Well, you're right. I have sort of let go at these kids that come out from New York every once in a while and they get out to Hollywood and in about five minutes they're directing their own company and sort of they do a picture but they sort of say that they're just doing it for the money so they can go back and express themselves artistically in New York on the stage. I don't go along with that very much, but I must say that I'm all for these these people that are here in this company. Ben Gazzara impresses me as being professional. He knows his job. He is an excellent actor. He has a style that he's developed. This is something that has come from learning a skill. So, I must say it is very gratifying to see this because our industry needs young actors, as many as we can get, and young actresses.
ANNOUNCER: Now, getting back to Anatomy of a Murder, you play the part of a lawyer and we've been wondering, have you ever been a lawyer before in a movie?
STEWART: No, we were talking about that the other day. In looking back over the years, I think I played the part of an apprentice or I don't think that's what they call it, a sort of a junior partner in a law firm and I think the picture was a picture I made with Carole Lombard years and years ago. But that was my only brush with the law.
ANNOUNCER: How did you happen to take this role as a lawyer? Was it a rather challenging one to you? Was it a change of pace?
STEWART: It's a little bit of a change of pace, but this is a wonderful script. I am so worked up about this script, so excited about it that it scares me. I think it is an exciting story and the fact that we are up here doing it where it actually happened and right in a sort of a locale like this. I think we have a chance of coming up with something.
This was the end of the interview and the local announcer could close it any way he or she wanted.