At the time Jimmy Stewart on the Air was published, we knew of the existence of three Cancer Society discs on which Stewart appeared – 1957, 1959 and 1960. Since then, we have obtained a new disc. Like the others, this is a 16-inch transcription disc (G8-MM-0392). It was issued for the 1956 Cancer Crusade.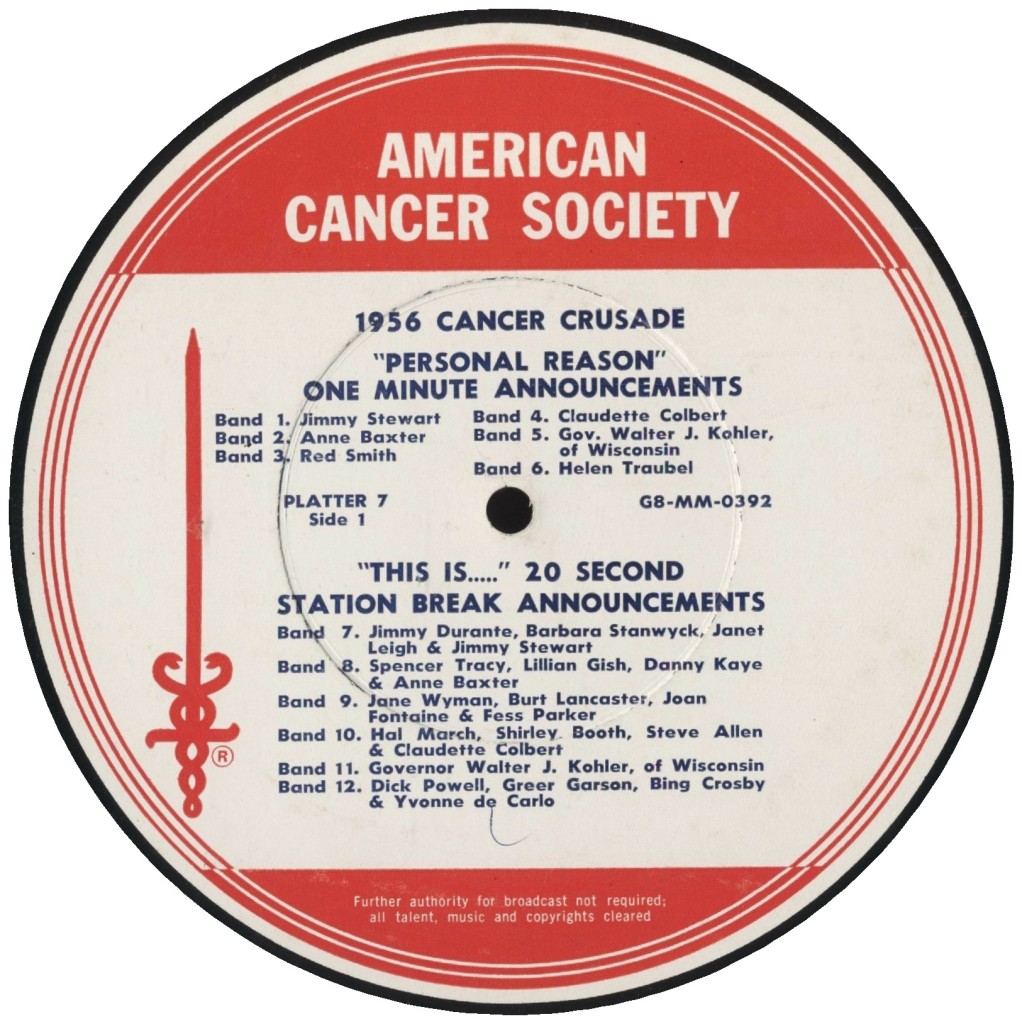 Stewart appears twice on side one of the disc. He is the lead track in the -"Personal Reason" One Minute Announcements – section. An announcer opens and closes the track, with Stewart appearing in the middle.
Here is a transcript of this announcement:
ANNOUNCER: Each of us has a personal reason for wanting to see cancer conquered. Jimmy Stewart would like to tell you his.
STEWART: I was very young when I was first taught the value of human life. It seems criminal to me that in this day and age we're still losing so many people to a disease like cancer; especially those thousands who are dying needlessly. Each of us can do something about it. This American Cancer Society slogan tells it best – fight cancer with a check-up and a check. Having been active in the society for years, I know that regular medical check-ups have often led to cures. Now, as to your check, well it's needed in vital cancer research. So when you're approached by a volunteer from your unit of the American Cancer Society be generous.
ANNOUNCER: Thank you, Jimmy Stewart. Remember, fight cancer with a check-up and a check to your unit of the American Cancer Society and mail it to Cancer in care of your local post office.
Stewart's same words were used on the 1957 disc with one exception – the very first sentence was edited from his comments.
Stewart is heard again in the – "This Is….." 20 Second Station Break Announcements – section, appearing on Band 7.
In this spot, Jimmy Durante, Barbara Stanwyck and Janet Leigh simply identify themselves, with Stewart supplying a two sentence message:
This is Jimmy Durante…this is Barbara Stanwyck…this is Janet Leigh…and this is Jimmy Stewart. We all want you to fight cancer with a check-up and a check. Regular medical check-ups are good cancer protection and your check to your unit of the American Cancer Society will help conquer cancer.