Because this program is not available, all of the information known about it has been gleaned from the following newspaper clippings. The first appeared in The Star-Democrat, Easton, MD, on February 25, 1949: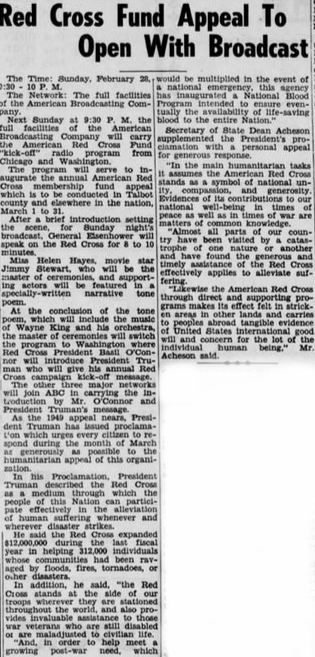 The second appeared in The Chillicothe Constitution-Tribune, Chillicothe, MO, on February 28, 1949: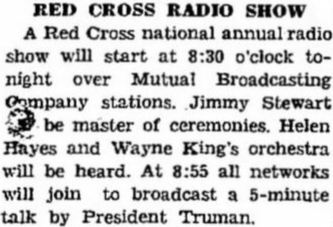 The final story appeared in Stewart's hometown paper, The Indiana Gazette, Indiana, PA, on the day of the broadcast: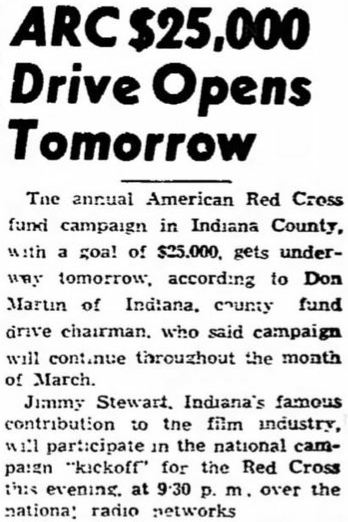 According to the first article, the program was to be carried on ABC, with the other three networks (NBC, CBS, Mutual) joining in only for the President Truman portion of the show. The second says that it is a Mutual Network show and the third says networks. Just which one is correct has not been determined.
However, we do know that the show was broadcast between 9:30 and 10 p.m. and portions originated from both Chicago and Washington, D.C. Jimmy Stewart served as the master of ceremonies. Helen Hayes, with a supporting cast, also appeared. She performed a specially written tone poem, accompanied by the music of Wayne King. At the end of the program, Stewart was to introduce Red Cross President Basil O'Connor, who was in Washington. He in turn would introduce President Truman who would deliver the Red Cross campaign kick-off message.
Update: February 24, 2018
We're adding a new display ad for this program which appeared in the Chicago Tribune on February 28, 1949.