The film Call Northside 777 had opened in the U.S. in February of 1948. Eight months later, on October 7th, it was being presented as a half-hour radio play on the Camel Screen Guild Theater. Jimmy Stewart had played P.J. McNeal in the film and reprised his role for radio. Likewise, Richard Conte played his film role of Frank Wiecek on the radio show. Pat O'Brien took on the role of Brian Kelly for the radio presentation; the part had been played by Lee J. Cobb in the film.
A script for this program has recently become available and a more comprehensive list of the cast and crew members can now be given. Besides the three main stars, the others taking part in the production were:
Jane Morgan – Tillie
Louise Arthur – Helen
Bob Beban – lab man
Wally Maher – bailiff
Howard McNear – duel roles of Underwood and Joe
Frank Nelson – cab driver
John Laing – announcer
Ed Chandler – co-announcer
The show's credits include:
Bill Lawrence – director
Don Bernard – supervisor
Harry Kronman – adaptation and script
Wilbur Hatch – conductor
Sound Effects – Bill Verdier
Ralph Reed – engineering
This was the first show of a new season for the Screen Guild Theater and it was also the premiere show for a new network – NBC. The show had been on CBS up until this time. Many newspaper articles, like this one from the Cumberland News, Cumberland, MD, pointed out this fact (although they did get the stars wrong…Lee J. Cobb was not in the radio production).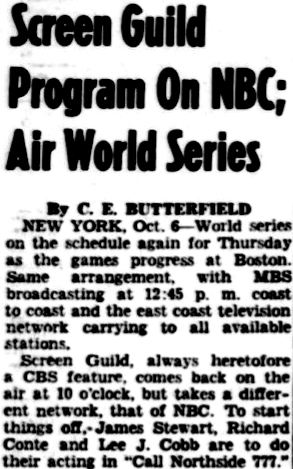 Many newspapers also ran this special display ad for the program: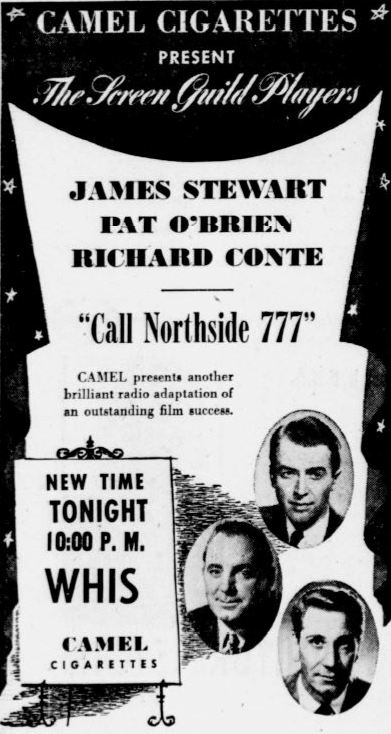 A slightly different display ad appeared in the October 6th issue of Variety: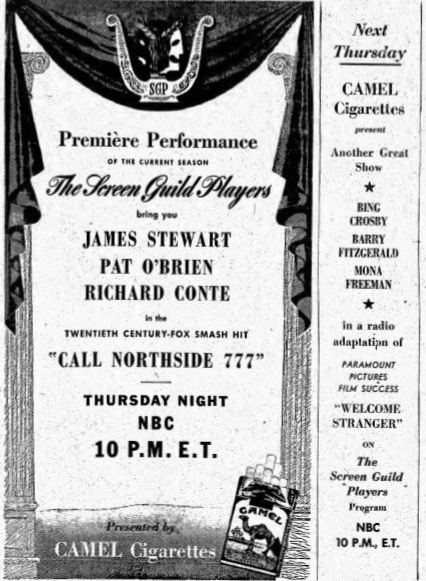 The Daily Telegraph, Bluefield, WV, from which the above ad was taken, also ran this special ad on the same page: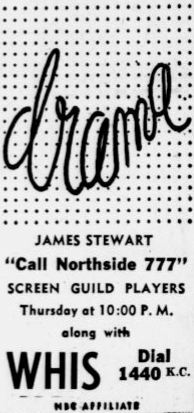 The October 13th issue of Variety featured the following review of the program:

This show was later issued on an album by Radiola Records (MR-1137):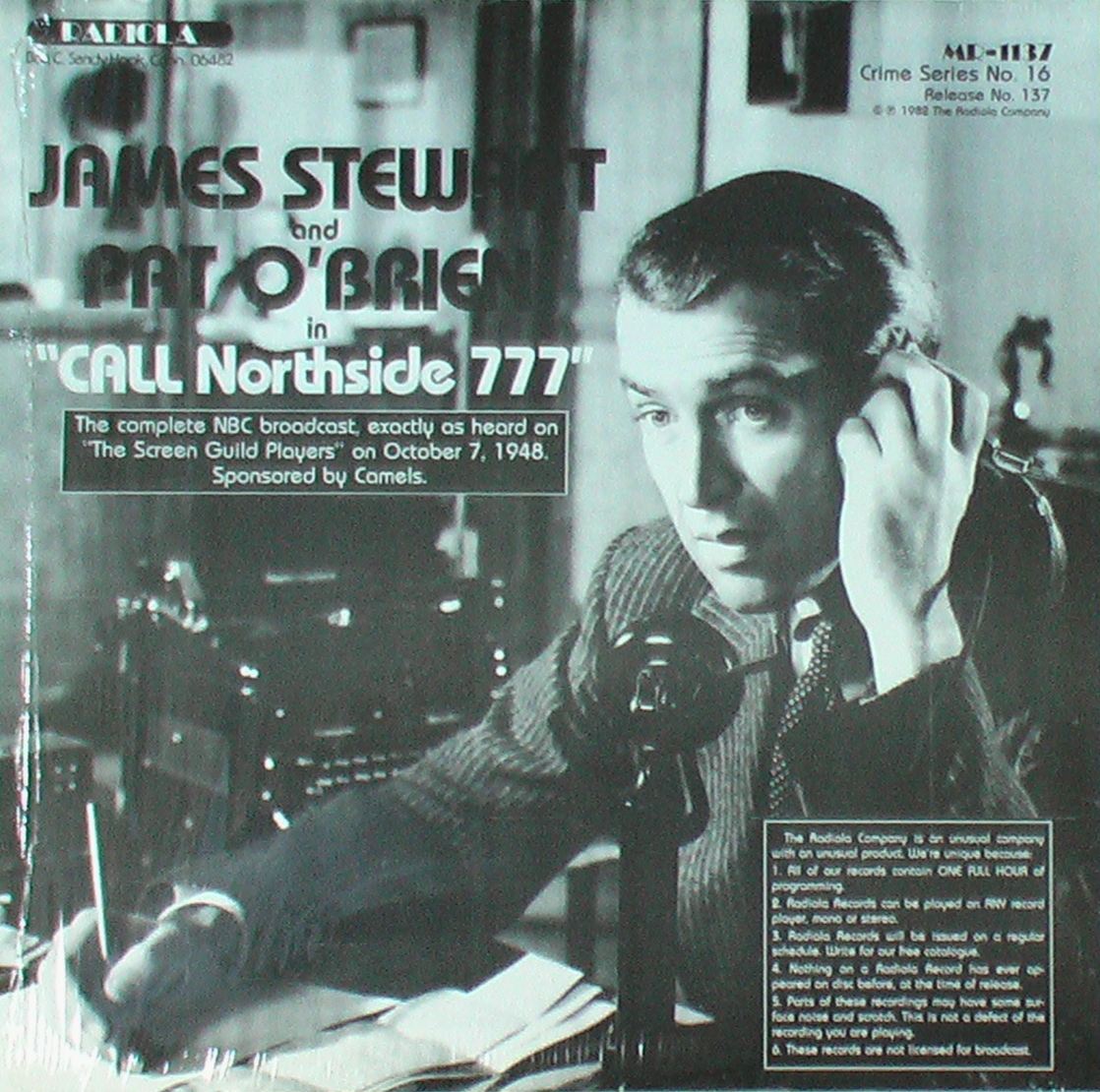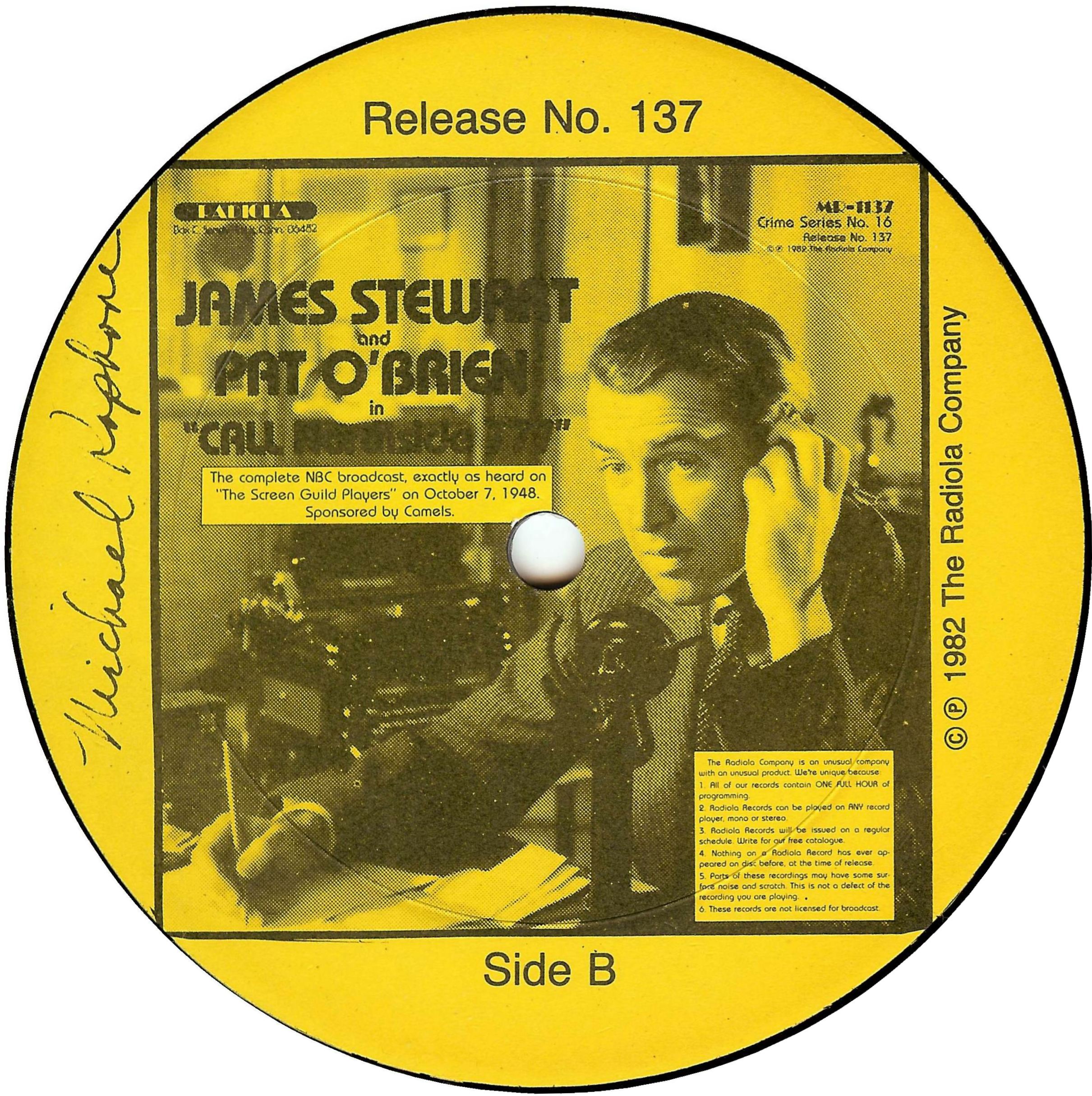 Listen now to the show which is presented here in two parts.
Part 1
Part 2
Here's one final photo of Stewart, O'Brien and Conte around the NBC microphone during a rehearsal for the show.