This was the first show of a new season for Bergen and McCarthy and it was heavily promoted in the newspapers. In the Lima News, Lima, OH, it grabbed the headline:

It also received a nice write-up in the Decatur Sunday Herald and Review, Decatur, IL: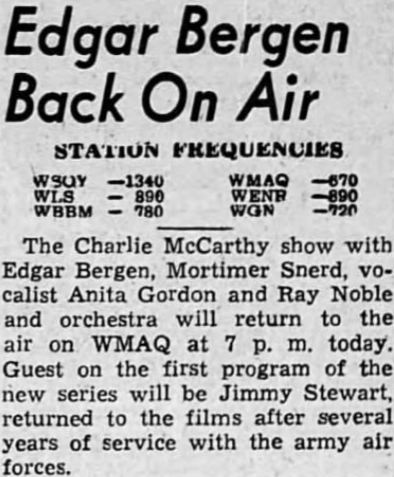 The Daily Telegraph, Bluefield, WV, also included a story of Stewart's first appearance on the program back in 1942: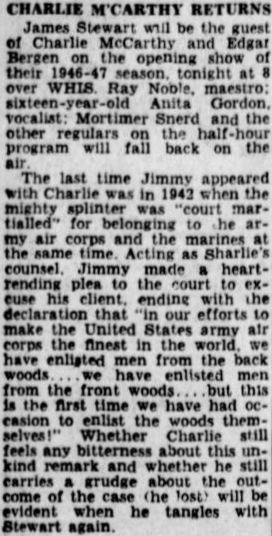 The NBC program was sponsored by Chase and Sanborn. Ken Carpenter was the announcer and Ray Noble supplied the music. Sixteen-year-old singer, Anita Gordon, joined the show this season as a regular.
Although this show is not generally available, it can be heard at The Paley Center in New York City. We listened to it there and can offer you this summary of Stewart's sketch.
Charlie McCarthy has decided to run for President of the United States, and hires Jimmy to be his campaign manager. As you can imagine, this would not be an easy task. When Jimmy tells Charlie that he must be "truthful and honest," McCarthy says, "There must be an easier way." At one point Stewart tells him that boys want a candidate who has made a name for himself in "football, baseball, hooky…" and Charlie quickly corrects him, "hockey, hockey." The skit ends with Jimmy leaving Charlie for a similar job with another candidate because that aspirant offered him a free enchilada.
Also appearing in the sketch were Bergen and Ray Noble.
The September 4, 1946, edition of Variety carried this review of the show:

(Updated June 23, 2017)
This program is finally available to the general public! You can find it in several places, but the easiest is right here.