Stewart made his third appearance as the emcee of Good News of 1938, on December 16, 1937. According to his contract, Jimmy was to be paid a bonus of $1500 by M-G-M for his contribution to the show.
In its December 15th edition, Film Daily mentioned the upcoming show: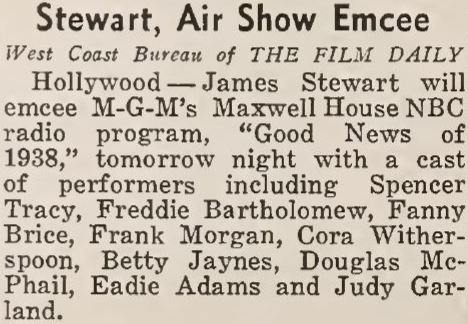 This preview is from the Amarillo Globe, Amarillo, TX, on the day of the broadcast: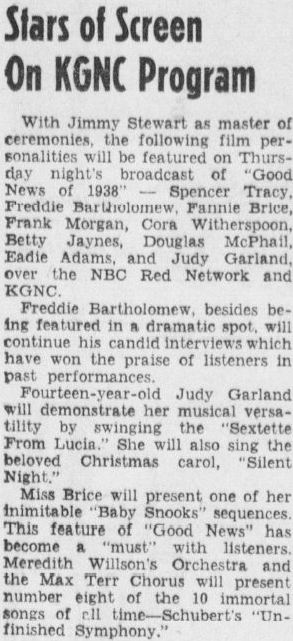 The show is not generally available, but it is part of the NBC Collection at the Library of Congress. We were able to listen to a copy there. We have also been able to examine a few pages of the script for the program. One of those pages was of the show's opening, with Ted Pearson introducing Stewart:
PEARSON:    And here is your host for the hour – – the popular young star of "Navy Blue and Gold" – Jimmy Stewart!
STEWART:    Hello, everybody. If you don't mind, I'll just look around a little and make sure that all the people who promised to be here tonight – are here. Yes, there's Spencer Tracy, Fanny Brice, Betty Jaynes, Douglas McPhail, Frank Morgan, Cora Witherspoon, Gilbert Russell, Freddie Bartholomew – AND our talented musical director, Mr. Willson.
WILLSON:     Thank you, Jimmy. You can just call me Meredith.
STEWART:    I was going to, but I understand Bartholomew didn't do so good with that last week.
WILLSON:     Oh no – it's easy. Just say it over three or four times fast.
As mentioned in Jimmy Stewart on the Air, because of a break in the 16-inch transcription disc, part of the beginning of the programs is missing. The available portion begins very near the end of a skit in which Frank Morgan is playing the role of Paul Revere.
At the conclusion of the sketch, Stewart thanks Morgan and mentions that he will be back later in the show. Jimmy then introduces, and talks with, Douglas McPhail and Betty Jaynes. The pair then sings Indian Love Call.
Next Jimmy introduces Fanny Brice and they talk about his current film, Navy Blue and Gold, and how much she enjoyed it. Fanny asks Jimmy to do a scene from her new show with her. It's a love scene and Jimmy will be required to kiss Fanny. He excuses himself saying that he must leave to do a love scene with Greta Garbo. According to the closing credits, the skit was especially written for Brice by Harry Ruby and Bert Kalmar.
Next, Jimmy does a commercial for Maxwell House Coffee and breaks for station identification.
When the show returns, Stewart introduces a sketch, Small Town Christmas Carol, featuring Spencer Tracy and Freddie Bartholomew.
Following the sketch and a Meredith Willson song, Jimmy introduces a skit about feminine psychology titled, If Men Played Cards the Way Women Do. It was written by George S. Kaufman. Starring as the card players are Frank Morgan, Meredith Willson, Spencer Tracy and Jimmy Stewart. The men spend more time gossiping than they do playing cards. A phone call from Jack Benny ends the sketch.
At this point, Jimmy and Ted Pearson do another commercial for Maxwell House. Following this, Jimmy says that it's time for the M-G-M Concert Hall. Meredith Willson presents the #8 song on the list of the public's 10 favorite melodies — Franz Shubert's "Unfinished Symphony" (in abbreviated form). Joining him in the performance are Douglas McPhail, Betty Jaynes and Gilbert Russell. Here is the interaction between Stewart and Willson as transcribed from the original script:
STEWART:    Now – the MGM Concert Hall. Tonight Meredith is going to play number 8 in the list of the public's favorite melodies. Come on, Meredith, tell us about it.
WILLSON:     Well, in the past two weeks we have played Rossini's William Tell Overture and Paderewski's Minuet in G. Tonight we present, in abbreviated for – a melody which has steadily increased in public favor since it was first heard more than half a century ago – FRANZ SCHUBERT'S "UNFINISHED SYMPHONY."
Following this performance, Stewart returns with his final remarks:
STEWART:    I hope you'll be listening to our Good News of 1938 again next week, because next week we have a super-special for you. We're giving a party here on Stage 30 to celebrate the completion of the new MGM musical, "Rosalie," and Mr. Louis B. Mayer will be host for the occasion. You'll meet such stars as Nelson Eddy, Eleanor Powell, Ray Bolger, Frank Morgan, Edna Mae Oliver, Ilona Massey, and Fanny Brice. I'll be here too, because I don't want to miss it – and you won't either. So be sure       (the next part is hand written in – and enjoy another night with us) next Thursday – and remember that your ticket of admission is just your loyalty to Maxwell House Coffee. In the meantime, go to the movies and enjoy yourself. Goodnight.
The closing credits mention that Hanley Stafford had played the role of Baby Snook's father. Since Stafford and Snooks were not heard, we're assuming that the skit was part of the missing section of the program.