Stewart made his first of many appearances on this NBC program seventy-eight years ago on November 18, 1937. The show was broadcast from Studio 30 on the M.G.M. lot and so was heavily loaded with M.G.M. stars. Although the show is not available, we do know much about it from the newspaper ads that appeared at the time. One of the most helpful is this one which was taken from the Bakersfield Californian.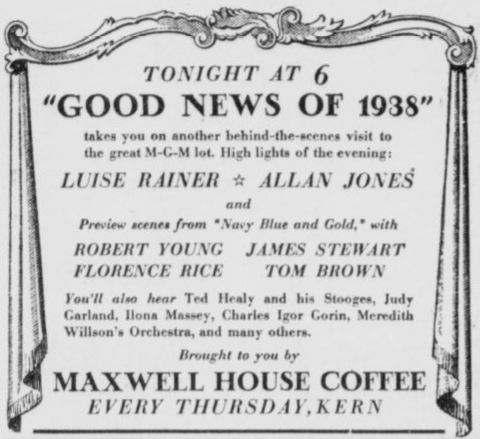 On hand that evening were Jimmy Stewart, Robert Young, Florence Rice and Tom Brown. They were there to perform scenes from the new M.G.M. film, Navy Blue and Gold. Also on the same show were Luise Rainer, Allan Jones, Ted Healy and his Stooges, Judy Garland, Ilona Massey, Charles Igor Gorin and Meredith Willson's Orchestra.
This preview from the Sandusky Star-Journal, Sandusky, OH, added that Jones was the M.C. for the show and was teamed with Luise Rainer in a dramatic skit.