The Mutual Network broadcast Keep 'Em Rolling every Sunday from 1-:30-11 p.m. for 28 weeks. The program was the product of the Office of Emergency Management (OEM). Playwright George S. Kaufman was the host and the music was supplied by Morton Gould and His Orchestra.
Jimmy Stewart appeared on the show just one time on February 22, 1942. The Long Beach Independent, Long Beach, CA, highlighted the program with a large headline.

The short preview that went with it is the only copy we have and not of very good quality – sorry.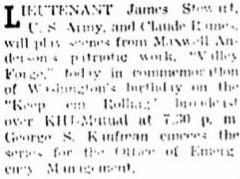 This shorter preview from the Chicago Tribune is much easier to read.

The show also rated a mention in the February 18, 1942, edition of Variety: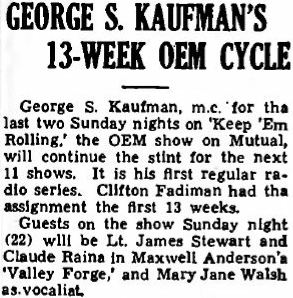 Stewart's show, like so many others in this series, is not available. We do know from the previews that the other guests included Claude Rains and Mary Jane Walsh. Stewart and Rains took part in a skit by Maxwell Anderson entitled Valley Forge.