The film, The Stratton Story starring Stewart and June Allyson, had gone into general circulation in June of 1949. On February 13, 1950, the only radio adaptation of the film was presented on the CBS radio series, Lux Radio Theatre. The script was adapted for radio by Sanford H. Barnett. William Keighley was the show's producer and host and John Milton Kennedy was the announcer. The show's musical director was Louis Silvers and Charles Forsyth was in charge of sound effects.
The Bakersfield Californian used a film publicity photo of Stewart to advertise the show:

The Decatur Daily Review, Decatur, IL, had this preview of the show: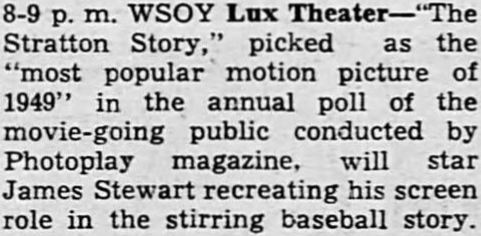 Stewart and Allyson recreated their film roles of Monty and Ethel Stratton. They were joined in the cast by:
John McIntire – Barney Wile
Helen Irwin – Ma
Cliff Clark – Jimmy Dykes (Clark had also been in the film, but had played Josh Higgins)
Herb Ellis – umpire
Leo Cleary – waiter and Josh Higgins
Bill Johnstone – conductor and doctor
Glen Durning – Eddie Dibson
Lawrence Dobkin – Ted Lyons
Charlotte Lawrence – woman
George Neise – Bill Dicky
Willard Waterman – manager and umpire
Shepard Menken – Milliken
Eddie Firestone – public address announcer
Eddie Marr – taxi driver and player
Leone Le Doux – Dottie and baby
Robert Bruce – umpire and Hap, Monty's hunting dog
The photo below appeared in the July, 1950, edition of Screenland magazine. It shows Jimmy and June sharing a snack before the radio broadcast.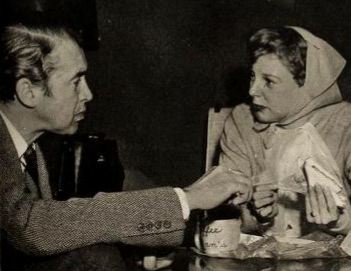 In his introduction, William Keighley says, "This is a very special evening in the Lux Radio Theatre because we present the screenplay that you have chosen as your favorite for the year 1949. Tonight's play was selected by the moviegoers of America in a nationwide poll conducted by Photoplay magazine; it's The Stratton Story." Later, he adds, "After tonight's performance, The Stratton Story will receive Photoplay magazine's coveted Gold Medal Award, one of Hollywood's highest honors." The Photoplay awards program was broadcast later this same evening on ABC. The March issue of Photoplay had this full page ad which promoted the Lux Radio Theatre appearance and their own awards show: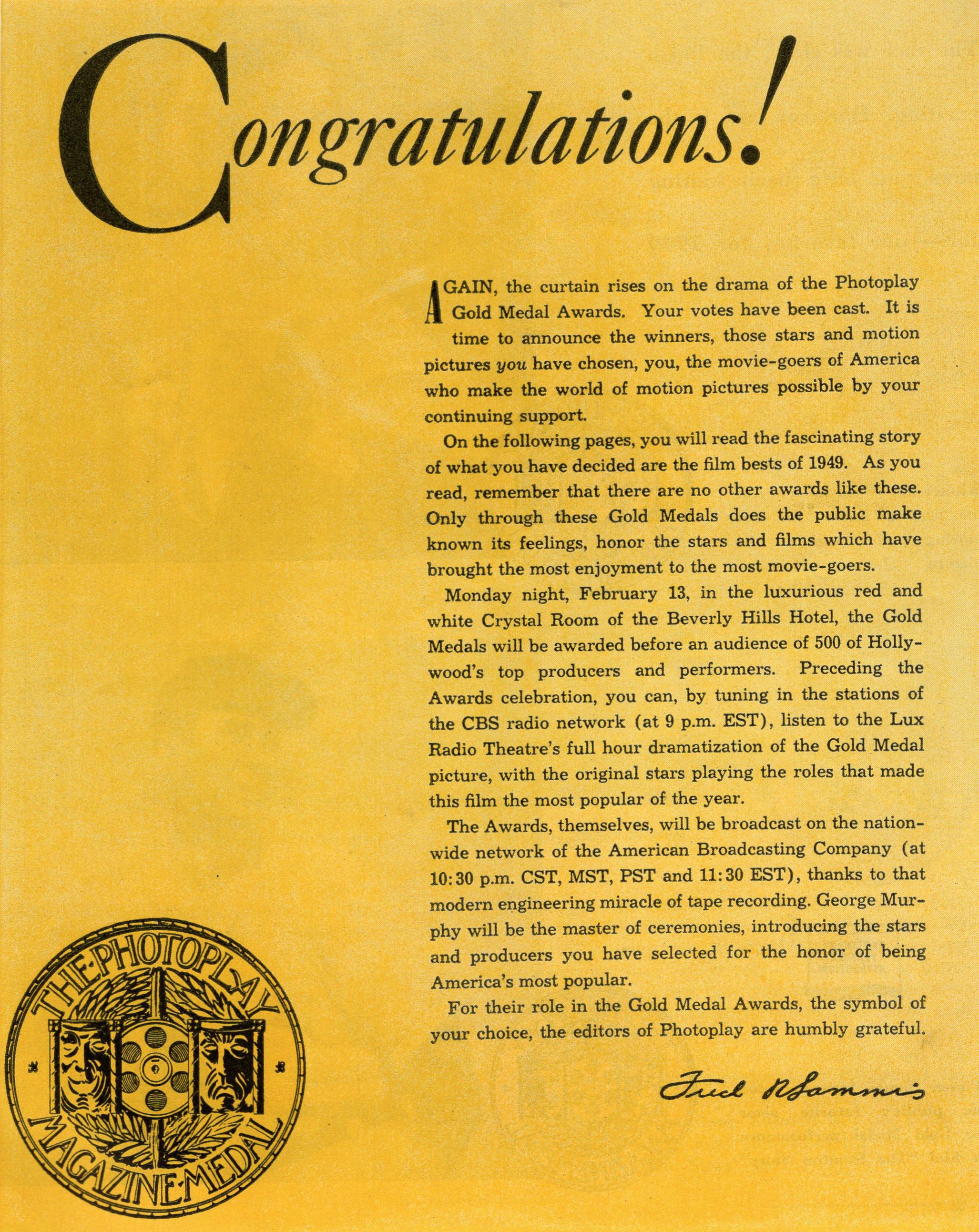 Act 1:
Act 2:
Act 3: