The NBC Theater was also known as Screen Directors' Assignment and Screen Directors' Playhouse. It was different from other dramatic series in that the director of the film, from which the story was adapted, was also a guest on the program. In this case, Frank Capra introduced the show and was part of the interview, with Stewart, at the end of the play.
Stewart reprises his film role of George Bailey. He's joined by Arthur Q. Bryan as Clarence Oddbody, Hans Conried as Mr. Potter, Herb Butterfield as Uncle Billy and Barbara Eiler as Mary.
Despite the show's strong Christmas theme, it was broadcast on May 8, 1949.
The show was covered in Jimmy Stewart on the Air, but several scans and audio have been added here to make the listing more complete.
The two scans below are from the May 8th edition of the Decatur Daily Review, Decatur, IL. Both appeared on the radio listings page, but not together.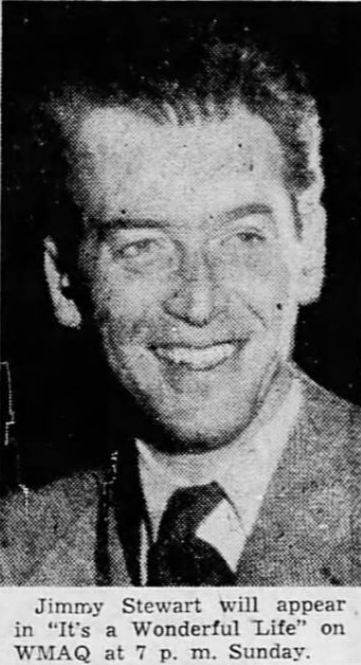 Here's the entire program. It's a very good performance, with Arthur Q. Bryan particularly good in his role as Angel Second Class, Clarence Oddbody.
Stewart received many awards for the film version of It's a Wonderful Life. In the clipping below, from the July 5, 1947 edition of the Motion Picture Herald, he is shown receiving one from the General Federation of Women's Clubs.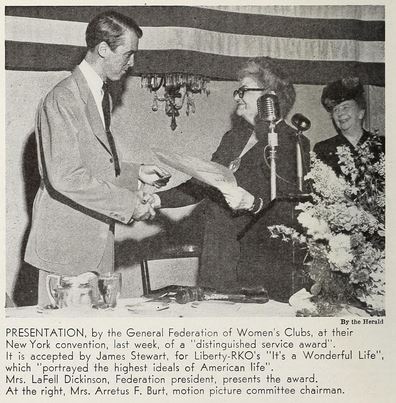 Also, here's a very nice photo of Stewart which appeared in the October 1946, issue of Screenland: