The 5th New York Film Critics Circle Awards for 1939 were announced on December 27, 1939, and the awards ceremony was broadcast just over a week later on January 7, 1940. The show was broadcast by NBC from 6:30-7 p.m. eastern time.
The New York Times ran this listing on the day of the broadcast:

This preview and story is from the Medford Mail Tribune, Medford, OR: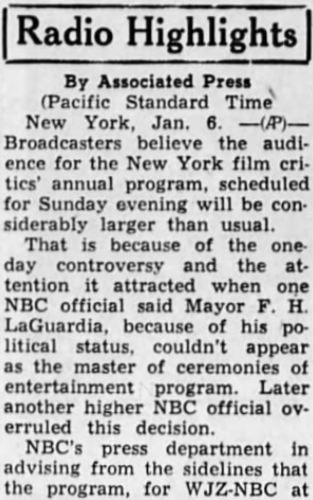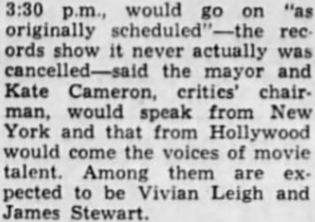 According to the article, there was some controversy over having Mayor LaGuardia as the master of ceremonies for the program.
Although this show is not in general circulation, it is part of the NBC Collection at the Library of Congress and we did have the chance to listen to it there. Here are the highlights.
The broadcast took place from the Rainbow Room, NBC Radio City in Manhattan. Kate Cameron, chairwoman of the New York Film Critics, introduced Mayor Fiorello La Guardia, who then announced the winners. There were just five awards:
Best Picture – Wuthering Heights (Runner-ups – Gone With the Wind and Mr. Smith Goes to Washington)
Best Actor – James Stewart – Mr. Smith Goes to Washington
Best Actress – Vivien Leigh – Gone with the Wind
Best Director – John Ford – Stagecoach
Best Foreign Film – Harvest (Regain) – France
Samuel Goldwyn was in New York and received the Award there for Best Picture. The broadcast then shifted to Hollywood, where Ken Carpenter acted as the master of ceremonies. He first introduces Vivien Leigh, who accepts her award and makes a short speech. Next comes Jimmy Stewart. He accepts his award and says:
"Ladies and gentlemen, it's a great thrill to me to realize that, through Mr. Frank Capra, I have been able to do something on the screen which
you, the New York Film Critics, consider worthy of this award. I'm very grateful. And now, with your permission, we would like to do again a
scene which was one of Mr. Capra's favorites. Miss Anne Stone will play the part of Saunders."
Ken Carpenter then introduces the scene in which Stewart's character talks about liberty being a very precious thing which boys should be taught. The role of Saunders had been played in the film by Jean Arthur. He talks about wanting to build a boys camp in his home state where this could be part of the training. In all, the scene runs about five minutes.
Next, Walter Wanger, the executive producer of Stagecoach, accepts the "Best Film" award for John Ford who was unable to attend.
Finally, William Wyler, the director of Wuthering Heights, presents live scenes from that film with the actors Laurence Olivier and Merle Oberon.
Stewart, Leigh and Olivier posed for this publicity photo: