Like several other radio programs, NBC's Screen Directors' Playhouse presented radio adaptations of films. The difference here is that the film's director was usually a guest of the program and introduced the play and was interviewed at the end.
The film Call Northside 777 had been released in February 1948. It had already been presented on radio on Screen Guild Theater in October of 1948. Now, on December 9, 1949, it was scheduled for the Screen Directors' Playhouse.
The newspaper advertising for the show was varied. Here are two display ads. The first is a partial scan from the Syracuse Herald-Journal, Syracuse, NY, and the second is from the Tucson Daily Citizen, Tucson, AZ.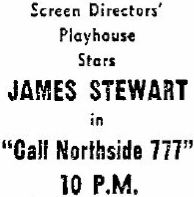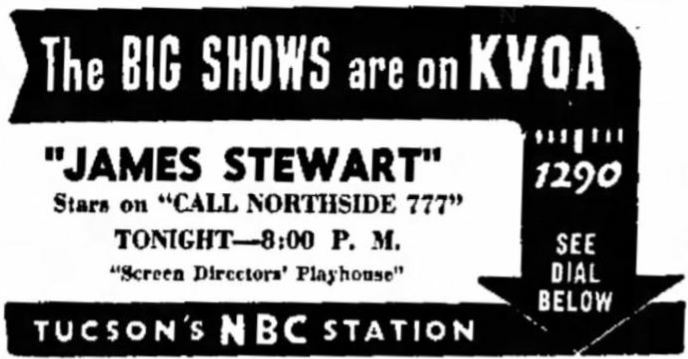 Also appearing in the Syracuse Herald-Journal was this preview: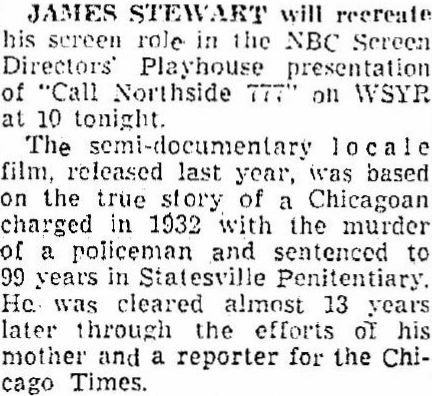 The Gazette and Daily, York, PA, also had the name of the film's director in its listing.

Joining Stewart in the cast were William Conrad, Stacy Harris, Peggy Webber, Paul Frees, Anne Stone, Rita Lynn, Ken Christy, Jim Nusser, Tyler McVey and Dan Riss.
After the play, Jimmy Wallington, the show's announcer, brings Stewart back to the microphone. In turn, Stewart introduces Henry Hathaway and the two have a short discussion about the film.
Act 1:
Act 2:
We're adding this movie preview ad from the Motion Picture Herald which you might find interesting.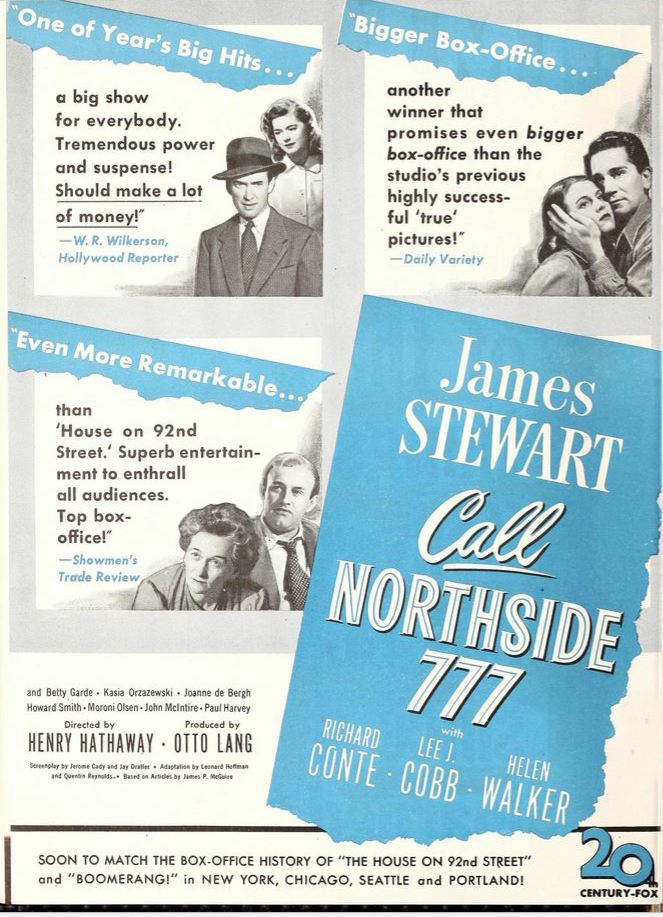 (Update: February 1, 2018)
In the summer of 1948, The Bob Hawk Show, a quiz program, replaced the Screen Guild Players. The final Hawk program was set for September 30th. The last thing in that final script was an exchange between Hugh Conover and Bob Hawk, which mentioned that the Screen Guild Players would return the following week with Call Northside 777, starring Jimmy Stewart.