Junior Junction was a half-hour Saturday morning program broadcast by ABC from 1946 until 1952. It was aimed at the teenage audience. We just recently uncovered the following photo and listing for the show in the February 9, 1952, issue of The Cincinnati Enquirer, Cincinnati, OH.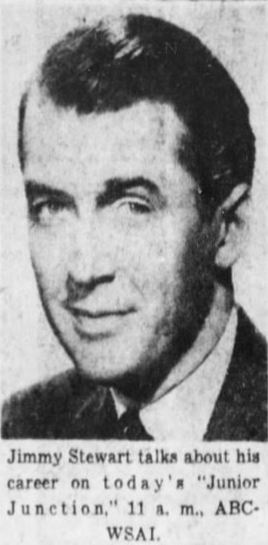 Here is a typical listing for the show from the Standard-Sentinel, Hazleton, PA, for the date of this broadcast. Very seldom were any guests given in these listings.

The program was hosted by Jack Lester, with music provided by Bruce Case and his orchestra. Peggy Murdock and Bill Snary were regulars.
Not surprisingly, no audio of Stewart's appearance seems to exist.
You may find it interesting that Dick York, who went on to play Darrin Stephens in the long-running TV series Bewitched, was an early host of the show.