Broadcast on June 3, 1954, the title of this show is also sometimes given as Silver Threads Among the Gold or Song and Supper.
As you know if you've been listening to the previous episodes, The Six Shooter was also being broadcast by the Armed Forces Radio Service (AFRS) to our troops overseas. So, for this blog, we've included the radio listings from the June 3rd edition of the Pacific Stars and Stripes, Tokyo, Japan.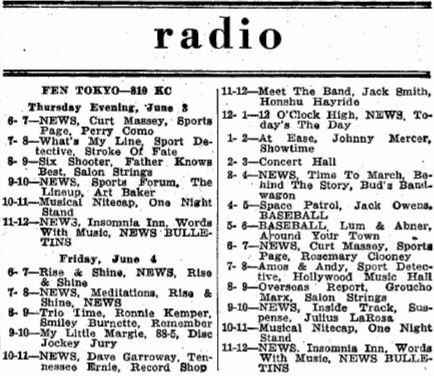 The co-stars of this episode were Ben Wright as Sean O'Hara, Bert Holland as Michael O'Hara, Will Wright as Sheriff Cleat Gentle and Barney Phillips as Toby Yeager. The guitar heard throughout the show is played by Bob Bain.
The O'Haras' stop to see Homer Danfield and find he had been shot and robbed. Britt joins in the search for the bandit. In the end, it's a song that gives the criminal away.
Act 1:
Act 2: