Broadcast on May 20, 1954, this show is also known by the titles The Wyoming Kid, Reluctant Hero and Wyatt King. A display ad for the program appeared in the Syracuse Herald-Journal, Syracuse, NY.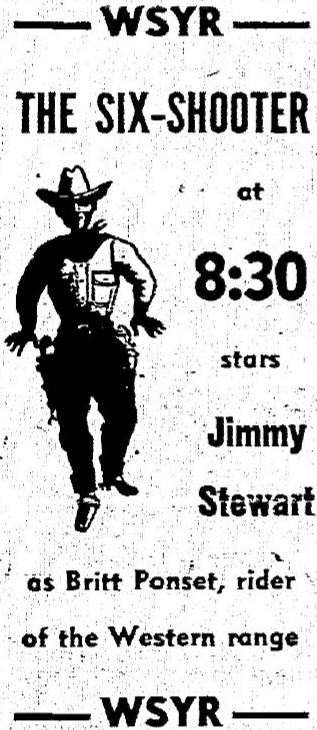 These two previews appeared in the Oakland Tribune, Oakland, CA, and the Tucson Daily Citizen, Tucson, AZ.


Stewart's co-stars were Bill Johnstone as Ollie Rowan, Herb Vigran as Mack Hawkins, Junius Matthews as Jonas Pilgrim, Barney Phillips as Sheriff Hemphill and Joel Cranston as Wyatt King. After a two week absence, John Wald returns as the show's announcer.
Wyatt King, better known as the Wyoming Kid, has been outdrawn by an older, grey haired bank teller. He doesn't want anyone to know, so he tells the sheriff that it was Britt Ponset who shot him. The bank teller who did the shooting also doesn't want the truth to come out and asks Britt to keep his secret. What is Britt to do?
Act 1:
Act 2: