The following article appeared in the May 12, 1953, edition of Motion Picture Daily: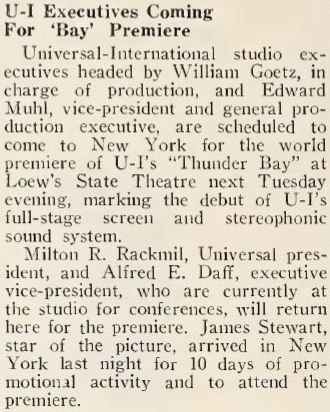 The last paragraph mentions that Mr. Stewart arrived in New York on the 11th and would be there for ten days of promotional activity and to attend the premiere of the film.
An article in The Brooklyn Daily Eagle on May 10, 1953, states that Mr. Stewart would participate in pre-premiere press and radio activity.

Just what this "radio activity" may have been is not completely known. The only talk show which we have been able to document during this period is his May 19th appearance on New York Close-Up with Jinx Falkenburg and Tex McCrary (see blog posted May 19, 2016). He also appeared on the New York City based program, Twenty Questions, on the 16th (see blog posted on that date, 2016).
It is likely that he also was interviewed on other programs, but these remain undocumented at this time.