Jimmy made his fifth appearance on the Crosy show on March 19, 1952. The show had been transcribed on March 6th, at the Plaza Theater in Palm Springs, CA.
After Crosby's opening routine and songs, Bing introduces Jimmy. Bing mentions the fact that Stewart is currently starring in Bend of the River. To go along with the western theme of the film, the sketch on this night is about the Indiana Baths in Palm Springs. Jerry Hausner plays the role of Little White Cloud, Viola Vonn is Mabel and Fran Warren is Agnes. At the end of the skit, Jimmy even joins with Bing and Fran Warren to sing a bit of Mississippi Mud. Jimmy's singing on the show even got a mention in the preview printed in the Long Beach Press-Telegram, Long Beach, CA.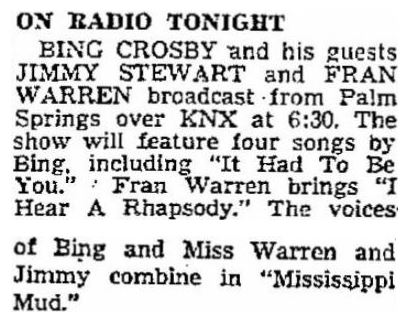 If you'd like to read along with the original script from the University of California's Truth Tobacco Industry Documents Library, click the link below.
Part 1:
Part 2, with The Stewart sketch:
In 1951, Jimmy Stewart had been Bing's guest three different times. This no doubt helped him in the voting for Motion Picture Daily's sixteenth annual radio poll for Fame, as voted by radio editors, critics and columnists of American newspapers and magazines. When the results of that voting were published in the January 23, 1952, edition of the Motion Picture Daily, Jimmy was shown to be in third place in the "Film Personality Most Effective in Radio" category: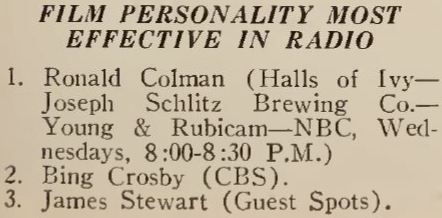 Notice that the #1 and #2 winners had their own programs, while Jimmy just made guest appearances.