As we mentioned in Jimmy Stewart on the Air, this program is not available for listening. However, we do have a little bit more information to offer about the program.
The most helpful newspaper preview that we have located appeared in the December 24, 1948, edition of the La Crosse Tribune, La Crosse, WI: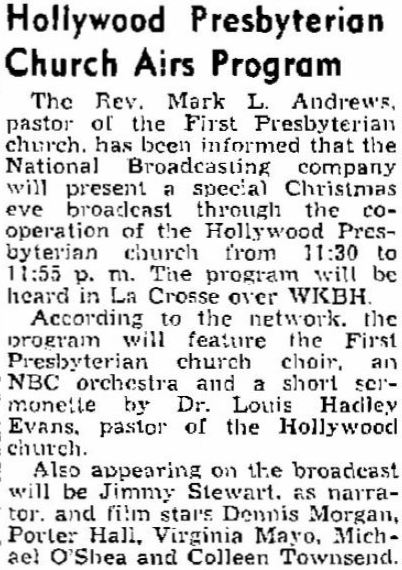 According to this preview, the Reverend Mark L. Andrews was pastor of the church and that the guest speaker, delivering a short sermonette, was to be Dr. Louis Hadley Evans. Jimmy Stewart was to act as the narrator for the service. Also on hand were to be several other stars, including Dennis Morgan, Porter Hall, Virginia Mayo, Michael O'Shea and Colleen Townsend.
Adding one bit of information was this preview from the Lowell Sun, Lowell, MA:

The orchestra, listed only as "an NBC orchestra" in the first article, is identified here as the Henry Russell Orchestra.
On the East coast, the show aired at 12:30 a.m., making it a Christmas Day broadcast.