According to the record's label, the disc was "Prepared & serviced by Universal Pictures for and to motion picture theatres solely for use in the exploitation of the film Destry Rides Again." The recording was meant to be played in theater lobbies before and/or after films so that patrons could hear it as they were entering or leaving the theater or purchasing snacks. It may also have been played in the theater itself before the start of a film.
Knox Manning, the announcer on the recording begins by saying, "The new Universal is on the air, bringing you a brief preview of the songs to be introduced by Marlene Dietrich in Destry Rides Again. It's a different…a greater Marlene Dietrich who co-stars with James Stewart in this picture. It's a Marlene you haven't known before; a Marlene Dietrich and a James Stewart to amaze you." He goes on to set the scene for Miss Dietrich's first song.
Despite Stewart's prominent name on the label of this 10-inch 78 RPM recording (PBS 042195), this is basically a vehicle to promote Miss Dietrich and the songs in the film. The songs were written by Frank Loesser and Frederick Hollander.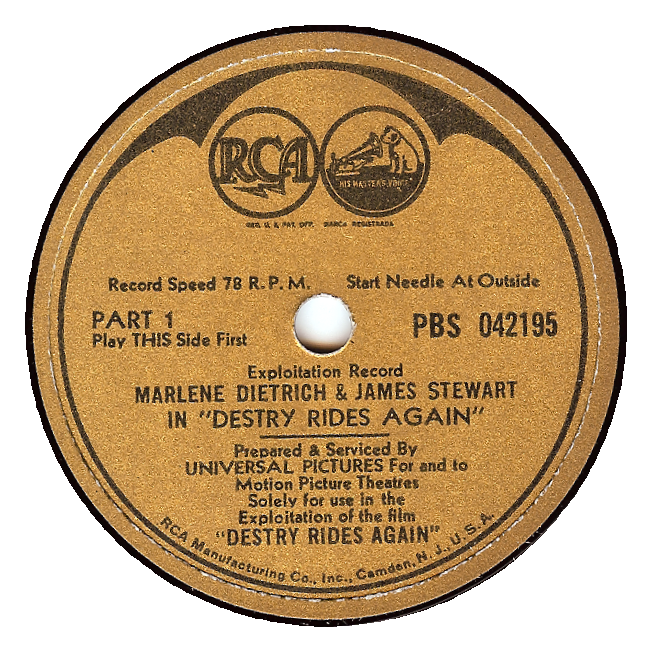 Two songs are heard on the first side of the record – I've Been in Love Before and Little Joe, the Wrangler.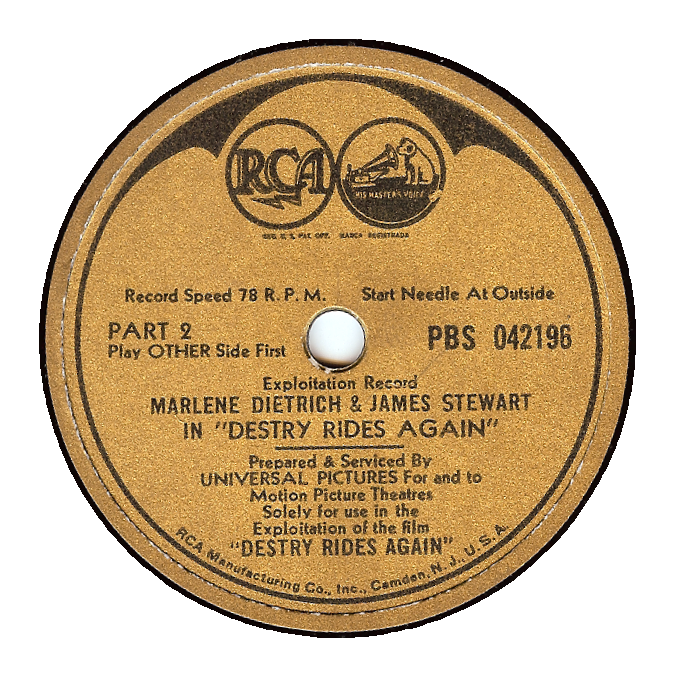 On the second side, we hear the songs See What the Boys in the Back Room Will Have and You've Got That Look.
This ad for the upcoming film appeared in the January 14, 1939, edition of the magazine, Independent Exhibitors Film Bulletin: