Here we present some updated information on one of many Stewart appearances on this popular NBC program. Although he had been the host of the some of the previous shows, this time that task fell to Robert Taylor and Jimmy was simply a guest.
The newspapers highlighted the show as seen in the following excerpts appearing on the day of the broadcast. The first is from the Centralia Daily Chronicle, Centralia, WA: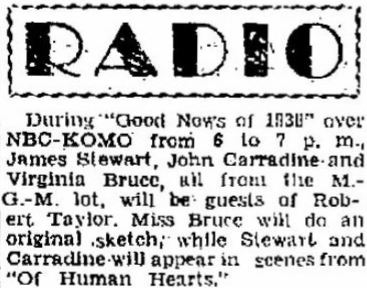 The second is from the Lima News, Lima, OH: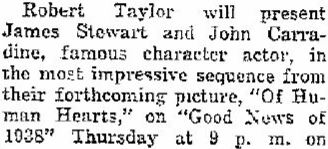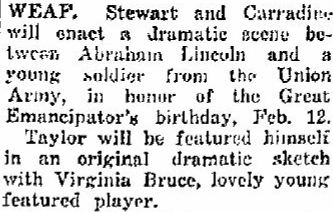 The program was also popular in Canada as evidenced from this preview from the Free Press, Winnipeg, Manitoba: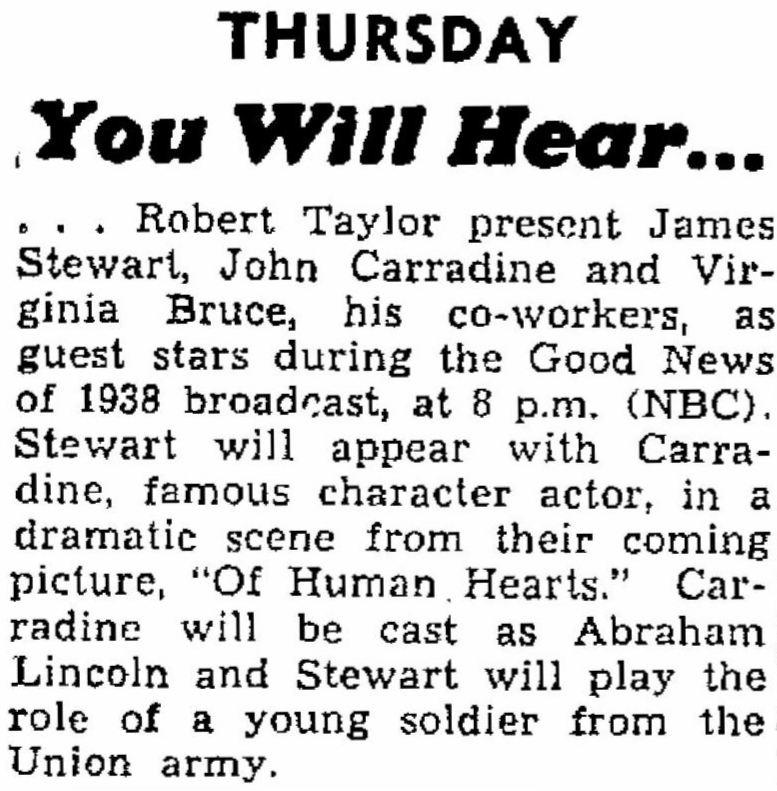 Others appearing on the show were: Virginia Bruce, Frank Morgan and Fanny Brice, Allan Jones and Meredith Willson.
On the day following this broadcast, Stewart's film, Of Human Hearts, was scheduled to open across the U.S. Starring with Jimmy were Walter Huston, Beulah Bondi and John Carradine as Abraham Lincoln. The main purpose for Stewart and Carradine's guest spot was to advertise the film. They performed a scene from the film. Following this, the film's director, Clarence Brown, joined the pair to be questioned by Taylor. The scene and interview take just over eight minutes. Here is that section of the program:
If you wish to listen to the entire show, you can do so here:
Up to this point in his career, Stewart had appeared on relatively few radio programs, including Hollywood Hotel, Lux Radio Theatre, Kraft Music Hall, Silver Theater and, of course, Good News of 1938. Despite his limited exposure, he was included in an April, 1938, article in Silver Screen, which looked at how the stars coped with "mike fright."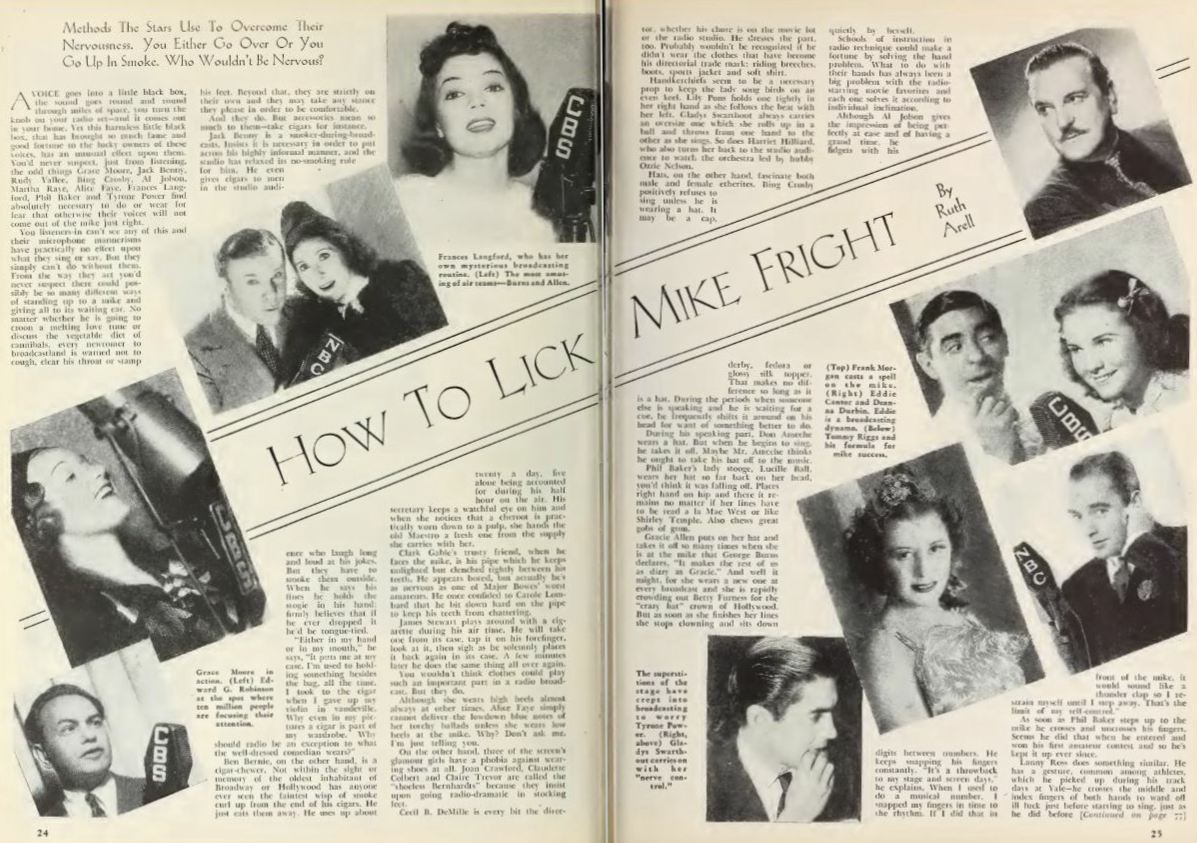 Print too small? Here's an enlargement of the page featuring Stewart. He starts off the second full paragraph in the third column.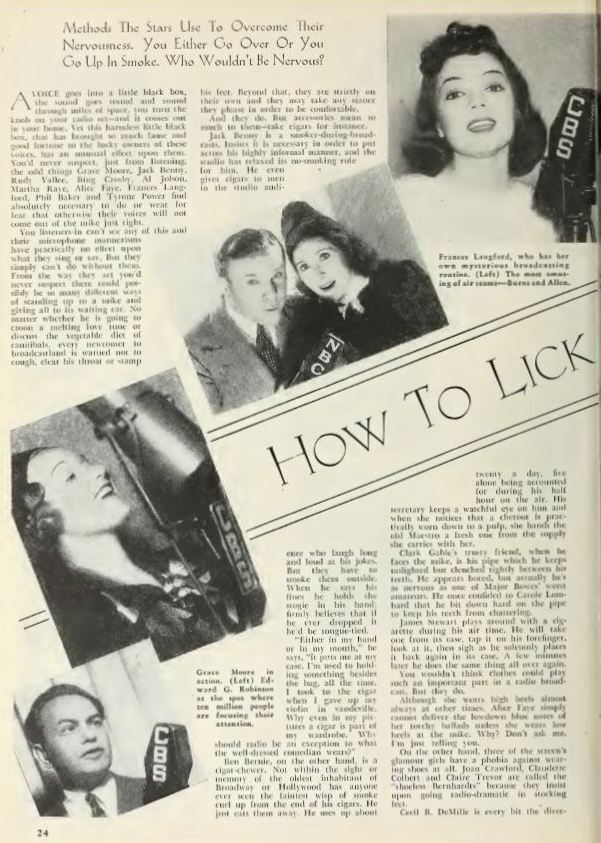 Couldn't resist including this magazine ad from 1938, the same year this show was broadcast…would you buy hand lotion from this man?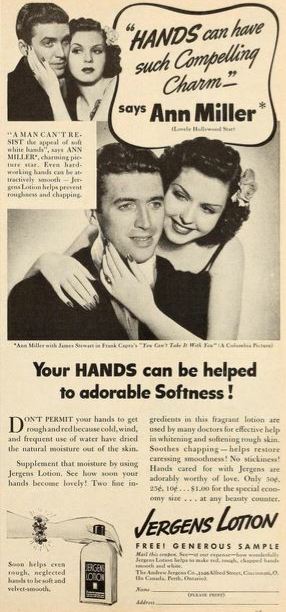 Update: February 14, 2018
Here are three new listings for this program.
The Lost Angeles Times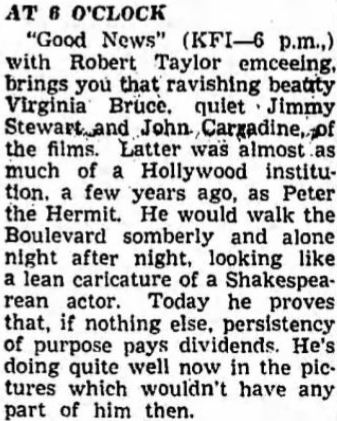 The Miami News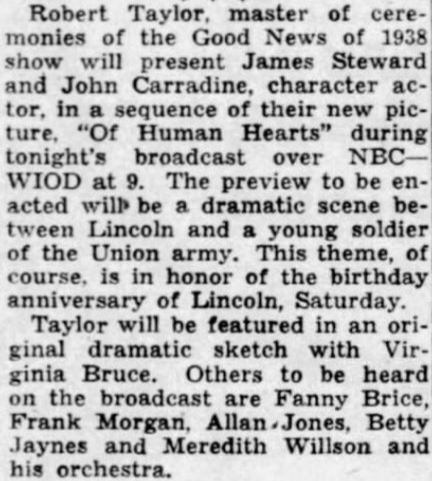 The San Bernardino Daily Sun