On November 13, 1936, seventy-nine years ago, Jimmy Stewart made one of his first radio appearances on the very popular show, Hollywood Hotel. The CBS program was hosted by Dick Powell and sponsored by Campbell Soup. The one hour show was broadcast from Hollywood and featured Louella Parsons talking with the stars. Because the shows were broadcast live, very few are available today. About 28-minutes of this broadcast does appear to be in the hands of private collectors, but is not generally available. Not having been able listen to this segment, it is not known if Stewart appears or not.
What we know about the program has been pieced together from newspaper previews. The most helpful of these is from the Winnipeg Free Press, Winnipeg, Manitoba, Canada.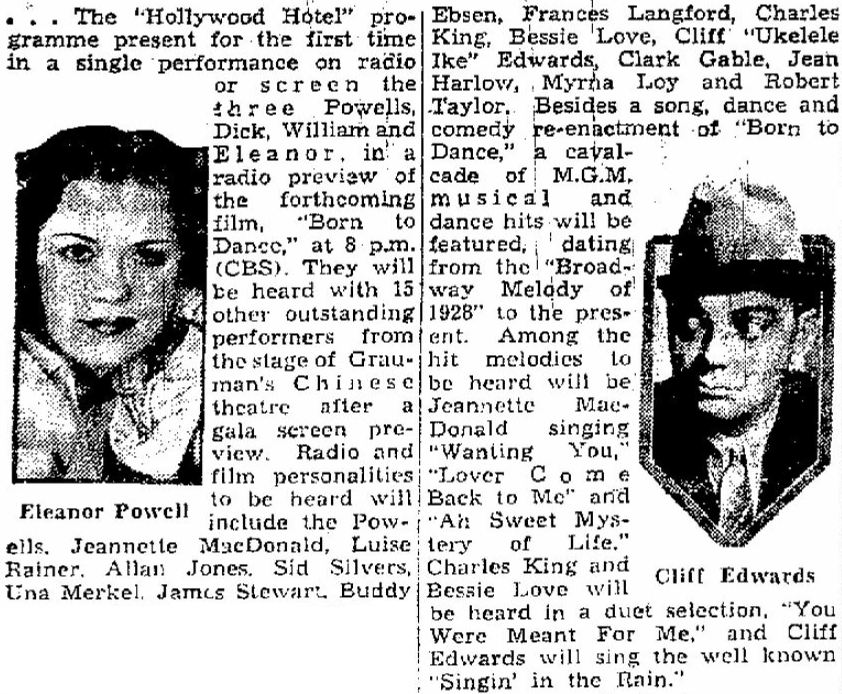 From this one article, we can see that the program was broadcast from the stage of Grauman's Chinese Theatre after a premiere screening of the film, Born to Dance. Besides Jimmy Stewart, those appearing on the show included Eleanor Powell, William Powell, Jeannette MacDonald, Luise Rainer, Allan Jones, Sid Silvers, Una Merkel, Buddy Ebsen, Frances Langford, Charles King, Bessie Love, Cliff "Ukelele Ike" Edwards, Clark Gable, Jean Harlow, Myrna Loy and Robert Taylor.
The show was to include a re-enactment from Born to Dance, as well as a number of musical hits from popular M.G.M. films. The singers and the songs they were to perform included:
Jeannette MacDonald – Wanting You, Lover Come Back to Me, Ah Sweet Mystery of Life
Charles King and Bessie Love – You Were Meant for Me
Cliff Edwards – Singin' in the Rain