Bing Crosby was the regular host of the Kraft Music Hall in 1937, but during the summer months he took a well deserved vacation and the hosting job fell to Bob Burns. During this summer, Stewart appeared on at least two different programs, with the second coming on August 5th. The show is not available, so all we know about it is what appeared in various newspaper previews. The first, and most useful, of these is from The Winnipeg Tribune, Winnipeg, Manitoba, Canada.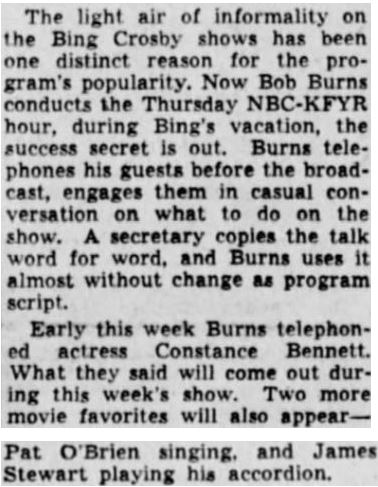 From this we learn that there would be three guests on the show – Constance Bennett, Pat O'Brien and James Stewart. Bennett would be interviewed, O'Brien was to sing and Jimmy would play his accordion.
A short preview in the Hanover Evening Sun, Hanover, PA, adds another piece of information.

The Paul Taylor Chorus, a regular on the program, would also be performing. Although not mentioned, John Scott Trotter's Orchestra would supply the music for the program and the announcer was Ken Carpenter.
The show aired on NBC from 10-11 p.m. on the east coast.