Let Freedom Ring was a 13-week series produced in co-operation with the U.S. Chamber of Commerce. In the cities in which it aired, it was sponsored by the local chapter of the Chamber of Commerce.
The show was very heavily publicized, as shown by the collection of newspaper stories below which were printed on April 6, 1948, the date of the first broadcast.
The Monroe News-Star, Monroe, LA, published two separate articles on this date – one in the radio listings and one as a news story.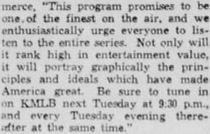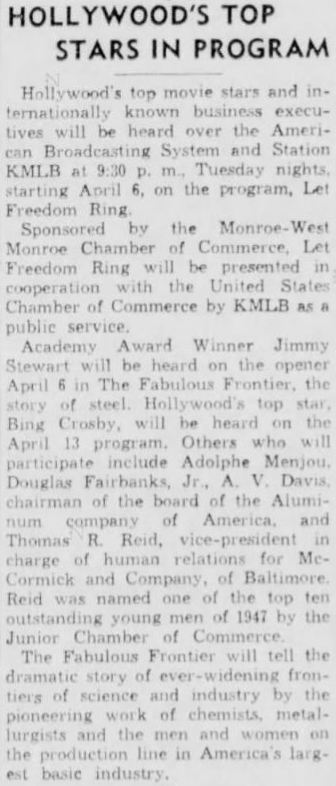 Radio station KWRN ran this display ad in the Nevada State Journal, Reno, NV, which featured several of its shows, including Let Freedom Ring.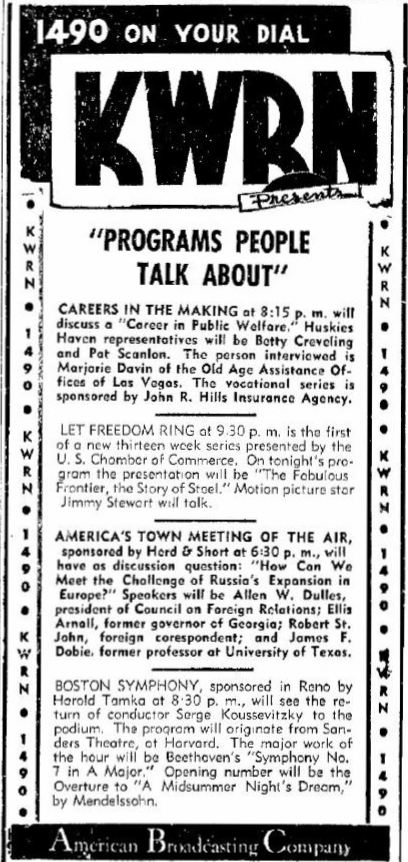 This final article is from the Corpus Christi Times, Corpus Christi, TX.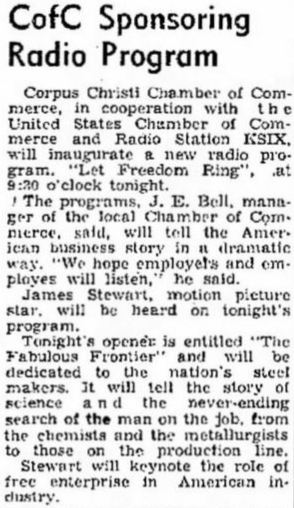 Although this program is not available, a great deal of information can be gathered from these articles. Most importantly, Jimmy Stewart was on the first program. All of the articles give the title of the program as The Fabulous Frontier, with some adding The Story of Steel. The program would "…tell the story of the nation's steel makers. It will tell the story of science and the never-ending search of the man on the job, from the chemists and the metallurgists to those on the production line." According to the Corpus Christi Times story, "Stewart will keynote the role of free enterprise in American industry."
The show was broadcast on the ABC Network. Others set to appear on later shows were Bing Crosby, Adolphe Menjou, Douglas Fairbanks Jr., A.V. Davis, chairman of the board of the Aluminum Company of America and Thomas R. Reid, vice-president in charge of human relations for McCormick and Company, Baltimore, MD.
A review of the show published in the April 14, 1948, issue of Variety supplies further information on the program.

The most important thing learned here is the Stewart was not live on the broadcast as were the other actors. Instead, he had recorded his lines while in Pittsburgh for his April 4th appearance on Theatre Guild on the Air. According to the reviewer, those lines were then inserted into the play in such a way as the average listener could not have detected the fact that he wasn't there.
The review also adds the names of the others actors – Rosemary Rice, Hal Stepler, Lyle Sudrow, Ted Jewett – and crew – Harold Levy (music), Jack McKercher (producer-director), Leonard Blair (assistant to McKerscher) – working on the broadcast.