June Bride had been a 1948 film starring Bette Davis and Robert Montgomery. When it was produced by the Radio Theatre on August 29, 1949, Miss Davis reprised her film role as Linda Gilman, but the Montgomery role of Carey Jackson was filled by Jimmy Stewart. Co-starring with these two were Betty Lynn as "Boo" (also her film role; who can ever forget Betty Lynn as Thelma Lou, Barney Fife's girlfriend on The Andy Griffith Show), Raymond Roe reprising his film role as Bud, Rhonda Williams as Jean, Eleanor Audley as Paula, Bill Johnstone as Mr. Brinker, Ruth Perrott as Mrs. Brinker, Herbert Butterfield as Carlton, Eddie Marr as Scotty, Holland Morris, Charlotte Lawrence, Noreen Gammill, Donald Randolph, Jane Webb and Joy Terry.
This was the first show of the 15th season of Lux Radio Theatre, and as such, attracted much newspaper coverage. There were several different display ads appearing in various papers: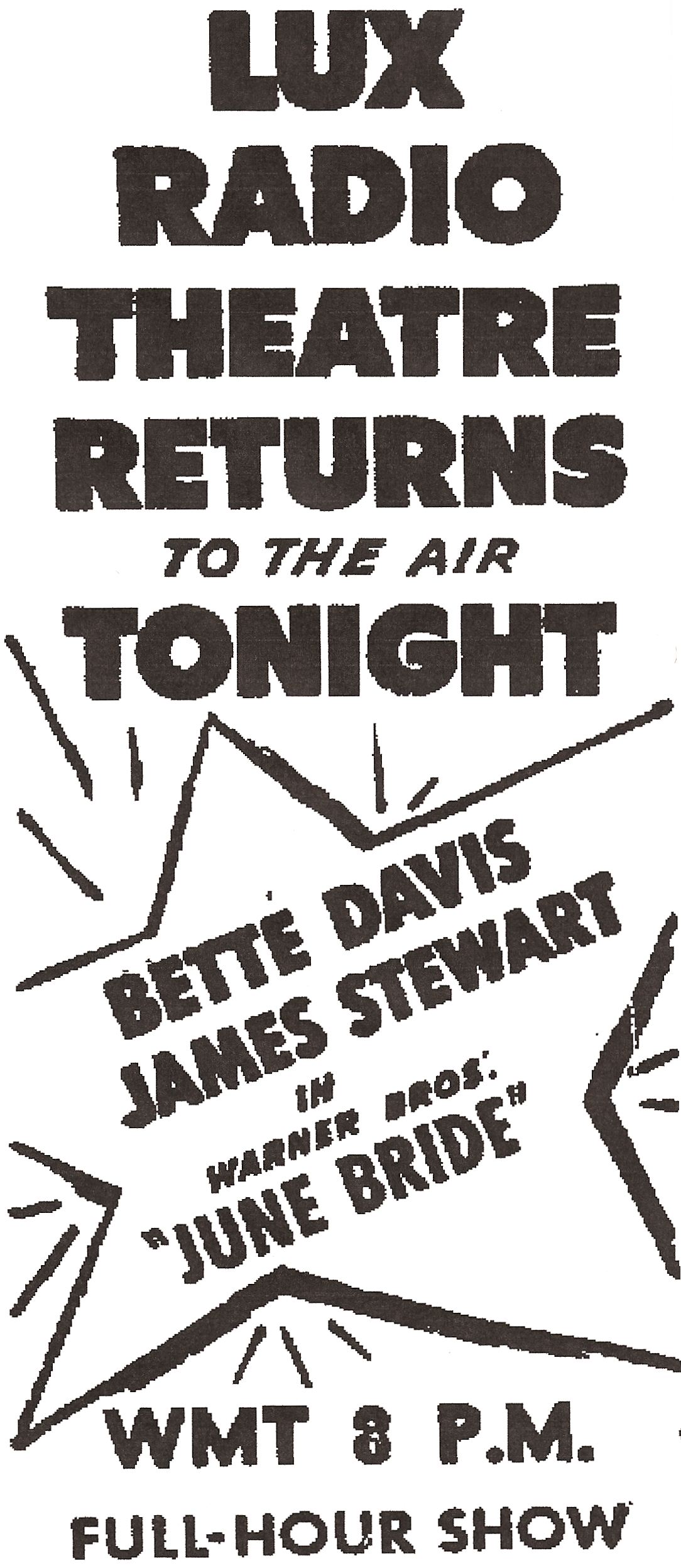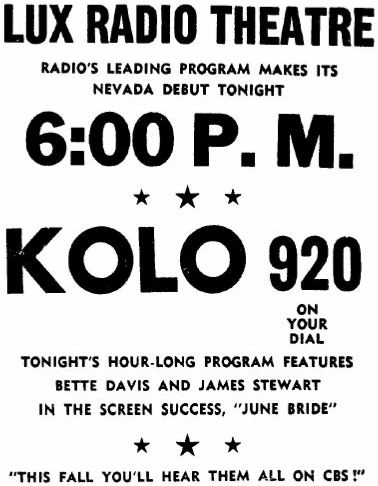 There also were photo ads, like the one below from the Wisconsin State Journal, Madison, WI. Given the choice of a Stewart or a Davis photo, many papers opted for Davis.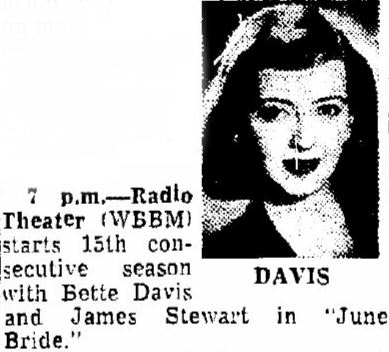 There also were straight forward previews, like this one from the Freeport Journal-Standard, Freeport, IL.

In its new season, the program was still being broadcast by CBS; it was produced and hosted by William Keighley, directed by Fred MacKaye, and John Milton Kennedy was its announcer. The script was prepared by Sanford H. Barrett.
The sound quality of the available show is not of the highest quality, but it is presented here for your enjoyment in the original three acts.
Act 1:
Act 2:
Act 3:
In the publicity photo below, Stewart appears to be holding several copies of the script: