Joan Fontaine, as Dee Dee Dillwood, and Jimmy Stewart, as Marvin Payne, had starred in the 1948 film, You Gotta Stay Happy. The story was adapted for radio by Sanford H. Barnett and presented on the Lux Radio Theatre on January 17, 1949, with the same two stars. The show was produced and hosted by William Keighley and directed by Fredric MacKaye. John Milton Kennedy was the announcer, Louis Silvers the musical director and Charles Forsyth was in charge of sound effects.
Also appearing in the cast were Frank Albertson (as Bullets), Joseph Kearns, Bill Johnstone, Willard Waterman, Jane Webb, Gil Stratton Jr., Herb Butterfield, Jeff Chandler, George Neise, Cy Kendall, Regina Wallace, Eddie Marr, Gail Bonney and Ed Max.
A photo of Stewart and a preview of the show appeared in The Bakersfield Californian, Bakersfield, CA, on the day of the broadcast:

The Wisconsin State Journal ran a photo of Fontaine and Stewart and elsewhere on the same page a short listing for the program: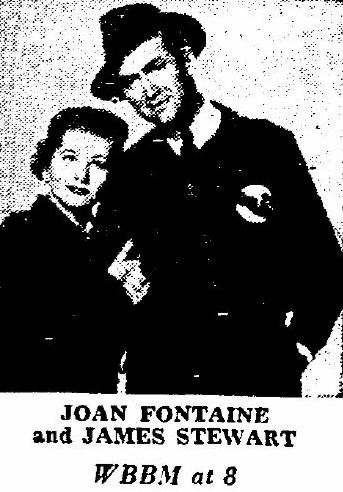 Sad to say that no copies of this program seem to exist; however, here's a photo of Fontaine and Stewart with William Keighley, taken during rehearsals.