William Conrad is the narrator for this story, also sometimes called The Silver Belt Buckle. Others in the play are Eleanor Audley as Mrs. Davis, Forrest Lewis as the sheriff, Joel Cranston (father of current popular actor, Bryan Cranston) as Lex Springer and Frank Gerstle as Kit Springer.
This program was advertised in the January 17, 1954, edition of the Zanesville Signal, Zanesville, OH, as part of a display ad for radio station WHIZ.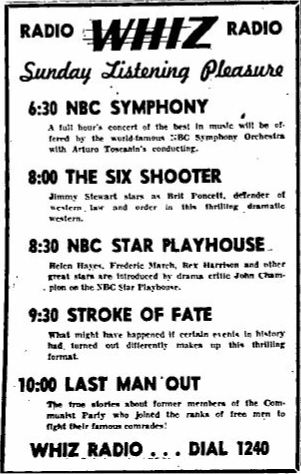 Lex and Kit Springer ride into Britt's camp and tell him that they are part of a posse searching for the men who killed Carl Davis. But, when Britt spots the bloody silver belt buckle being worn by Kit, he guesses the truth of the situation.
This was the last show for which Hal Gibney would serve as the announcer. Beginning next week, John Wald would take over that position.
Act 1:
Act 2: