There seems to be some disagreement over the title of this broadcast. Although almost all online sources refer to it as Child, Save My Fireman, the newspaper previews gave a different title. Here are several newspaper listing for the program from the day of the broadcast, January 5, 1941. The first is from the Morning Republican, Findlay, OH, and the second is from The Gazette, Xenia, OH.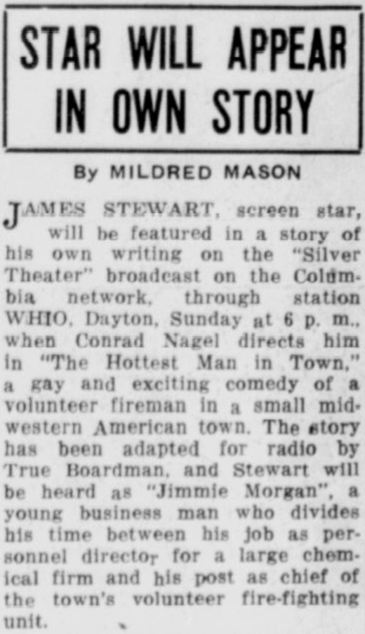 Notice that both refer to the show's title as The Hottest Man in Town. Both also state that Stewart wrote the story. No evidence has been found to confirm this claim. All references to the writer of the story name True Boardman as the author. It is mentioned at the end of the show that Jimmy did come up with the idea for the story.
Below, True Boardman and Jimmy Stewart go over a script during a rehearsal for Silver Theater.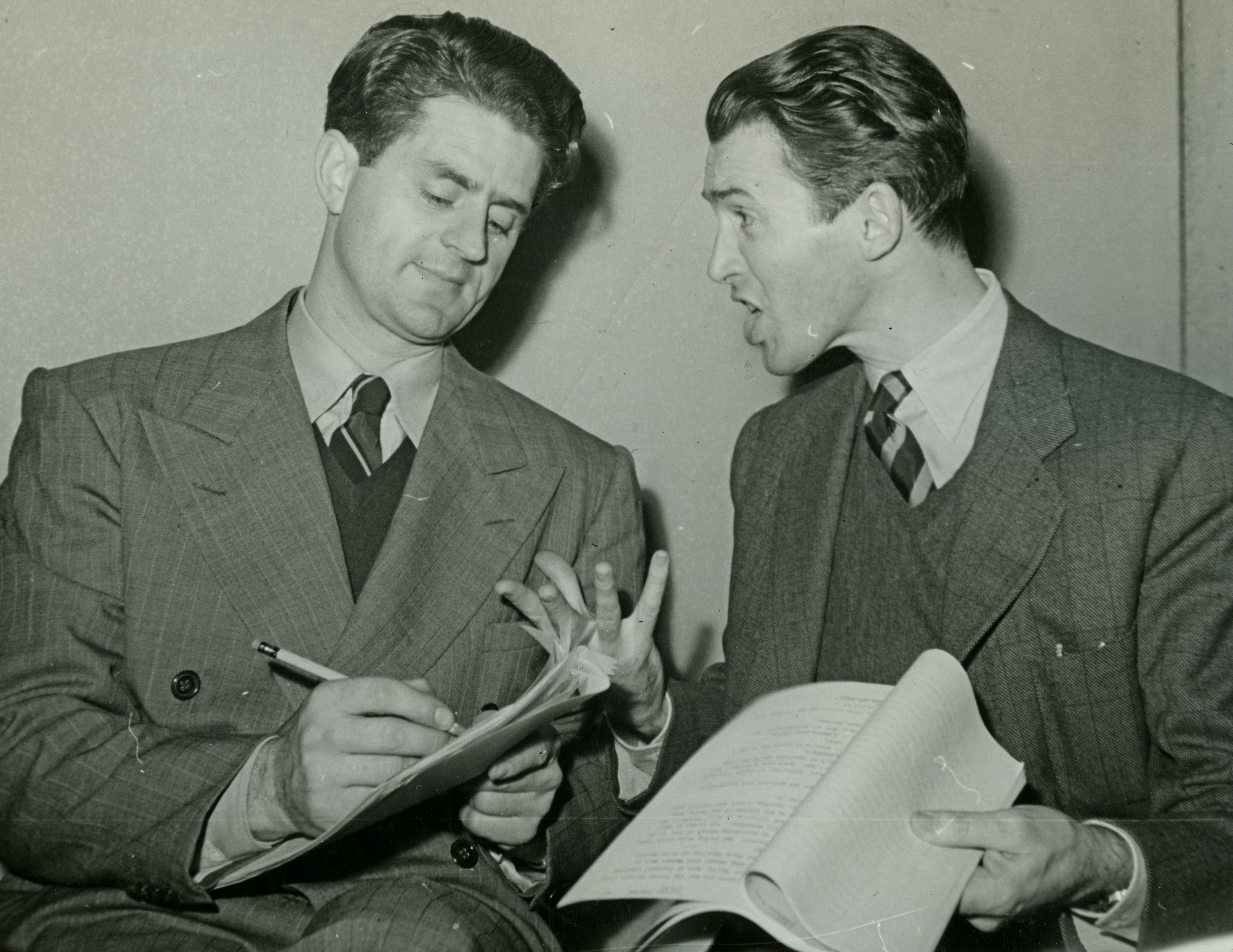 The show is not in general circulation, but it is available at The Paley Center for Media, 25 West 52nd Street in New York City.
Stewart stars in the production as Jimmie Morgan. His co-stars include Marsha Hunt as Molly Valentine and Paula Winslowe as Helen Martin.
Jimmie Morgan, a volunteer fireman, arrives at the scene of a fire and hears a woman crying out for someone to save her baby. Jimmie runs into the burning building and finds the "baby," who turns out to be a beautiful young lady. Her name in Molly Valentine and Jimmie falls for her immediately. One problem…he's already dating Helen Martin, his boss's daughter. Throughout the play, Jimmie looks like he will marry Helen at one point and Molly at another. But, the plans are always interrupted by the fire alarm. We're never quite sure who he is going to marry until the very end.
At the end of the show, host Conrad Nagel talks with Marsha Hunt and Stewart. He tells Marsha that Stewart was a volunteer fireman and gave them the idea for the show. Marsha asks if that's true and Jimmy says:
Stewart: Well, almost. See, back home in Indiana, Pennsylvania, my dad was a volunteer fireman. He used to drive a fire engine when I was a kid and he used to take me for a ride sometimes…boy, that was fun.
Hunt: As much fun as wrecking things with a fire ax?
Stewart: Oh no, no, they never did that; they didn't break things, they saved them. I can remember fellas rushing out of a burning house carrying furniture and paintings and family silver.
Hunt: Oh, so that's how you got all your beautiful silver.
Stewart: Wait a minute, why my silver is 1847 Rogers Brothers silver plate and I bought it…oh…oh…I just realized you were kidding. Hey, Marsha, you shouldn't do that here…you're too good an actress.
Nagel: Well, say, I think you're both swell. I'd like to have you back again soon.
Stewart: Well, thanks, Conrad (a fire alarm sounds). I…I gotta go.
Nagel: Don't tell me there's another fire.
Stewart: No, no, I…we've got a date and dinner with the soundman. Goodbye…come on…
We have recently added a copy of the audio for this show to our collection and can now share it with you. Enjoy.
Act 1:
Act 2:
We can also add a few other bits of information about the show's staff. Henry Charles was the announcer and Felix Mills, the orchestra leader. Joseph Kearns, who has an unmistakable voice,  is heard as Mr. Morgan.
(Updates and corrections: December 21, 2017)
The advertising agency of Young & Rubicon had Stewart sign a contract to appear on Silver Theater on January 5, 1941. The title of the play to be presented was not mentioned in the contract, but was Child, Save My Fireman. Stewart was to receive $4,400 for his work on the program.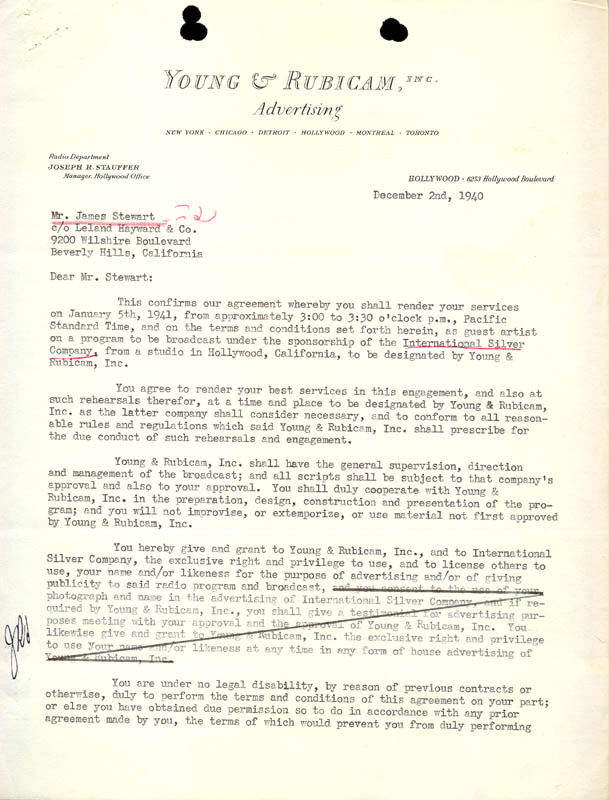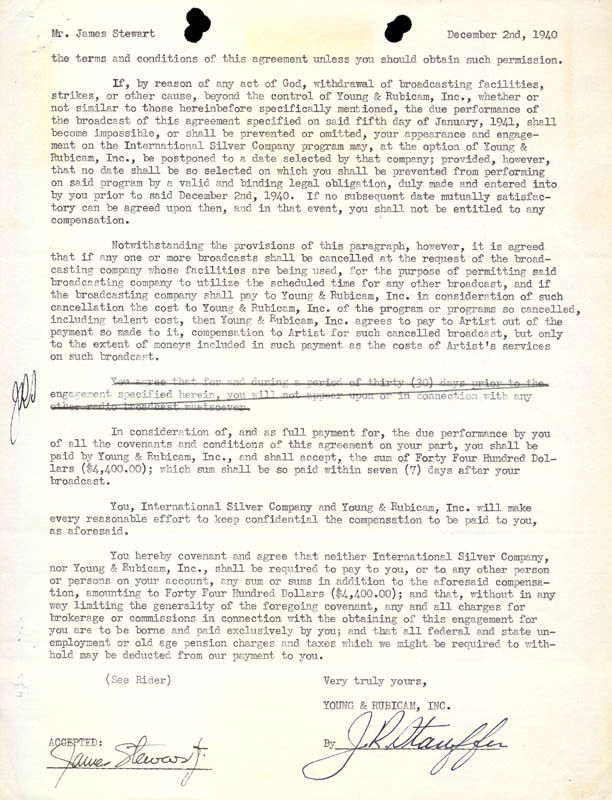 A short rider, initialed by Stewart was also a part of the contract.

Stewart was signed to MGM at the time, so they sent a letter to Young & Rubicon stating that Jimmy had their consent to appear on the program.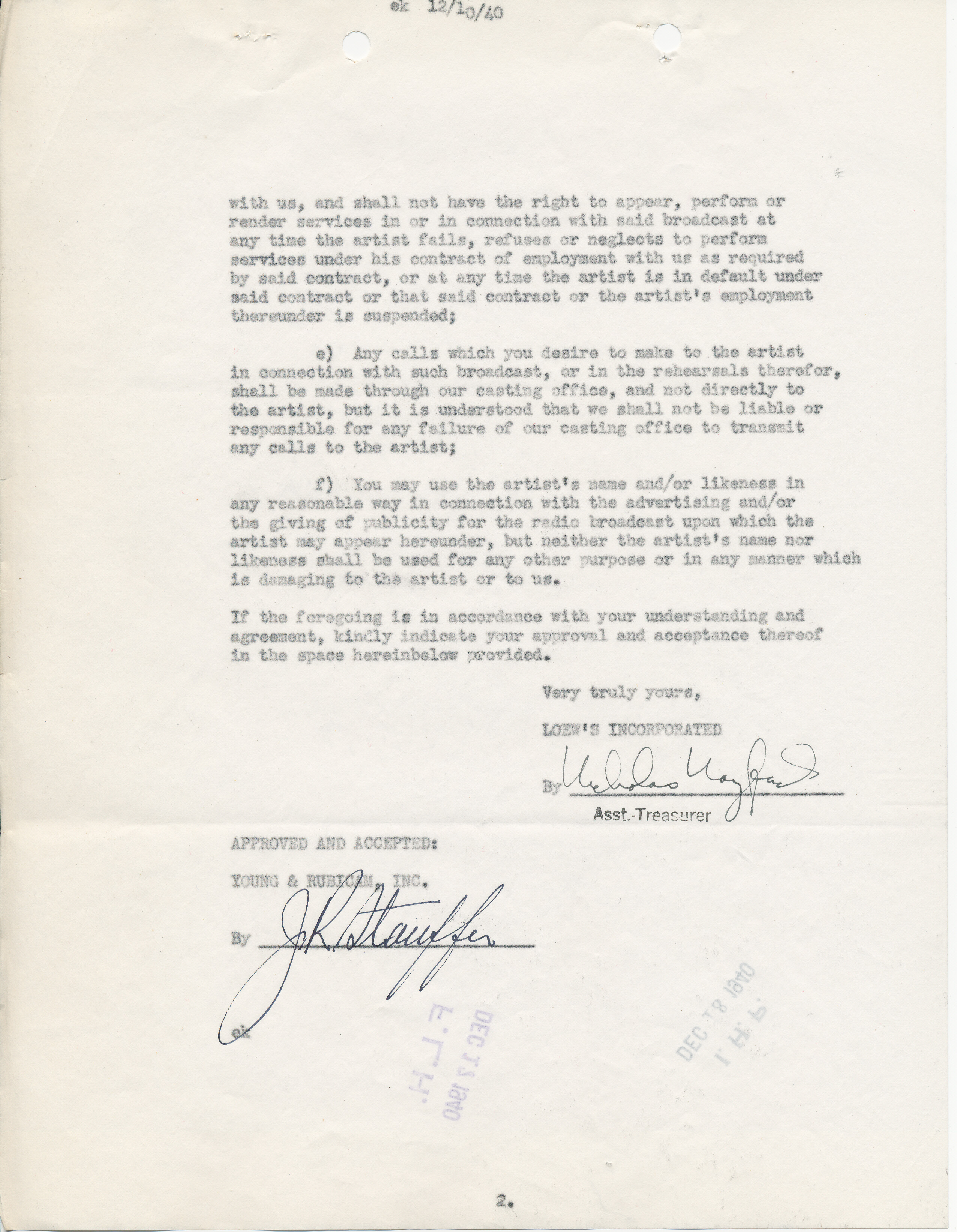 They also had Stewart sign an MGM contract detailing their conditions for his appearance on Silver Theater.