As outlined in Jimmy Stewart on the Air, the 22nd Annual Academy Awards Show was broadcast over ABC on March 23, 1950, from the RKO Pantages Theatre, Hollywood. Paul Douglas was the master of ceremonies and he was assisted by Eve Arden and Ronald Reagan. The previews and ads which appeared in the newspapers were more concerned with the nominees, so Stewart, as a presenter, was not mentioned in any articles that he could locate. Here are two examples of what did appear in print. The first is a display ad from The Pantograph, Bloomington, IL.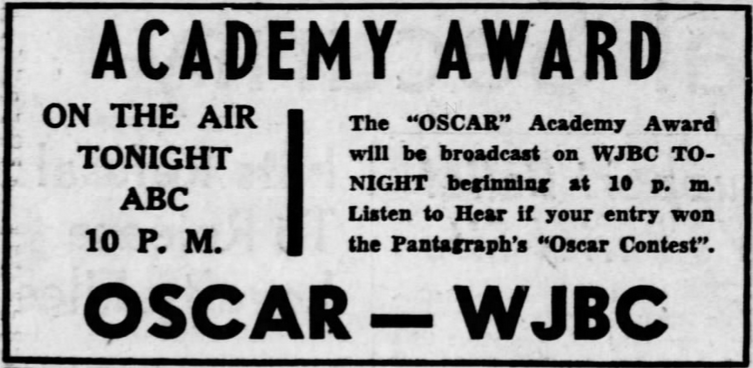 This preview is from the Lebanon Daily News, Lebanon, PA.

Besides Stewart, awards were also presented by June Allyson, Dick Powell, Anne Baxter, John Hodiak, Charles Brackett, James Cagney, Peggy Dow, Joanne Dru, Jose Ferrer, Barbara Hale, Ruth Roman, James Hilton, John Lund, Ida Lupino, Ray Milland, George Murphy, Patricia Neal, Donald O'Connor, Cole Porter, Micheline Presle, Ronald Reagan, Mark Robson, Ginger Rogers, Claire Trevor and Jane Wyman.
The songs and their performers were: It's a Great Feeling by Jack Smith, My Foolish Heart by Ann Blyth, Lavender Blue by Gene Autry and the Cass County Boys, Through a Long and Sleepless Night by Dean Martin and Baby, It's Cold Outside by the cast of Neptune's Daughter (Ricardo Montalban, Red Skelton, Betty Garrett and Arlene Dahl, who filled in for Esther Williams who was out of town).
The entire show, which does not circulate widely on the internet, will be presented here in seven parts. It is taken directly from the discs on which it was recorded.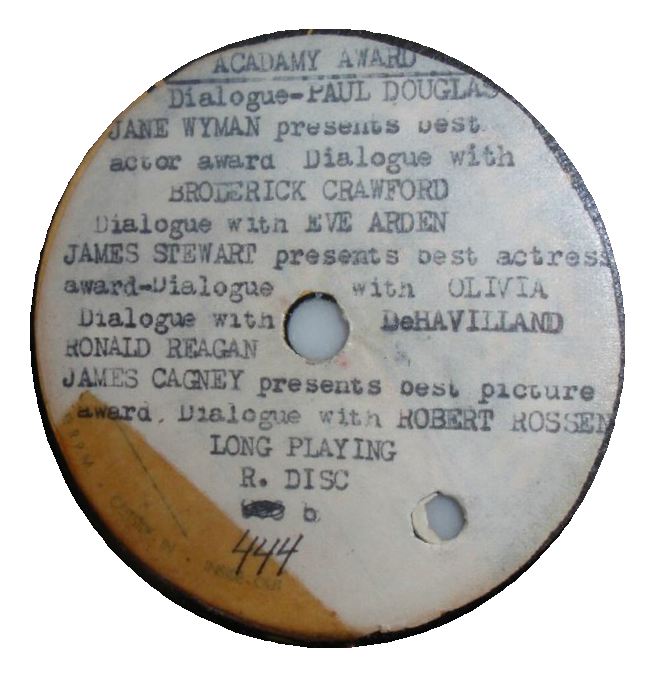 Stewart, who presents the award for "Best Actress," is heard in the final segment.