Thicker than Water was broadcast on March 14, 1954. The title is also sometimes given as Gus Proctor, Gus and Ted Proctor or Gambler's Son.
This short preview of the show appeared in the March 14th edition of the Lincoln Sunday Journal and Star, Lincoln, NE.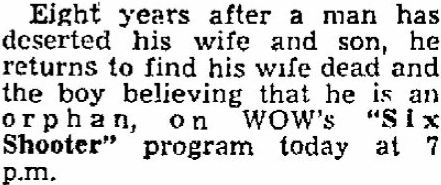 Also appearing on the show were Shirley Mitchell as Aunt Amy, Dick Beals as Ted Proctor, Barney Phillips as Gus Proctor/George Parker and Robert Griffin as Bart Finch.
Young Ted Proctor has grown up thinking that his father was dead. When his father returns to town, passing himself off as George Parker, a "friend" of Ted's father, Ted believes him. When Ted announces his plans to follow in George's footsteps and become a gambler, a scheme is hatched to thwart that idea.
Act 1:
Act 2: