As outlined in Jimmy Stewart on the Air, Jimmy Stewart appeared on this program just one time – November 20, 1945. A preview from The Brooklyn Daily Eagle on the day of the broadcast made reference to Stewart's recently completed military service:

A display ad for the program appeared in many newspapers. The one below is from the Corpus Christi Times, Corpus Christi, TX: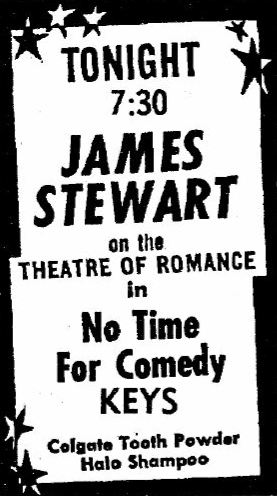 The play presented that night was No Time for Comedy and it was based on the 1940 film which starred Stewart as Gaylord Easterbrook. After the play ends, Jimmy returns to tell listeners about the next two plays and the stars of each.
Theater of Romance – No Time for Comedy