This is a new radio show that we discovered after the publication of Jimmy Stewart on the Air. The show is not available and little is known about it. What we do know comes from two short articles in the February 14, 1953, edition of Billboard magazine.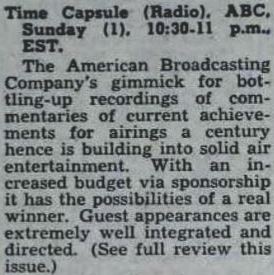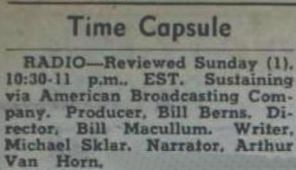 The second article is actually much longer, but we have only included the first section which gives the names of the production crew for the program. The remainder is a review of a show on which Stewart did not appear. The ABC program was broadcast from 10:30-11 p.m. EST on Sunday. Bill Berns was the producer, Bill Macullum the director, and Michael Sklar the writer. The show was narrated by Arthur Van Horn.
Thus far, we can confirm that Stewart appeared on the show on May 14, 1953. The following listing is from The Pittsburgh Press, Pittsburgh, PA, on the day of the broadcast.

Also a guest that evening was Cleveland Indians pitcher Bob Feller.