In 1994, the British group Accrington Stanley released an album titled Lovebound (The Beepsounds Recording Company BEEP2C).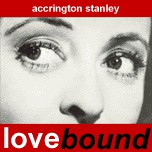 One of the songs on the album was James Stewart. The chorus, heard several times throughout the song, features the words, "if only James Stewart were with me now he'd know what to do, he always did somehow."
The group took its name from the Accrington Stanley Football (soccer here in the U.S.) Club based in Accrington, Lancashire. The members of the group were: Dan O'Farrell (vocals, guitar), Richard Barrett (keyboards, vocals), Rufus Grig (guitar, cello, vocals), David Calais (bass, vocals) and Chris Walsh (drums, percussion).