Seventy-five years ago today, on September 29, 1940, the third season of The Gulf Screen Guild Theater began with Jimmy Stewart, Margaret Sullavan and Frank Morgan starring in The Shop Around the Corner. The same three actors had starred in the film which had been released in January of 1940.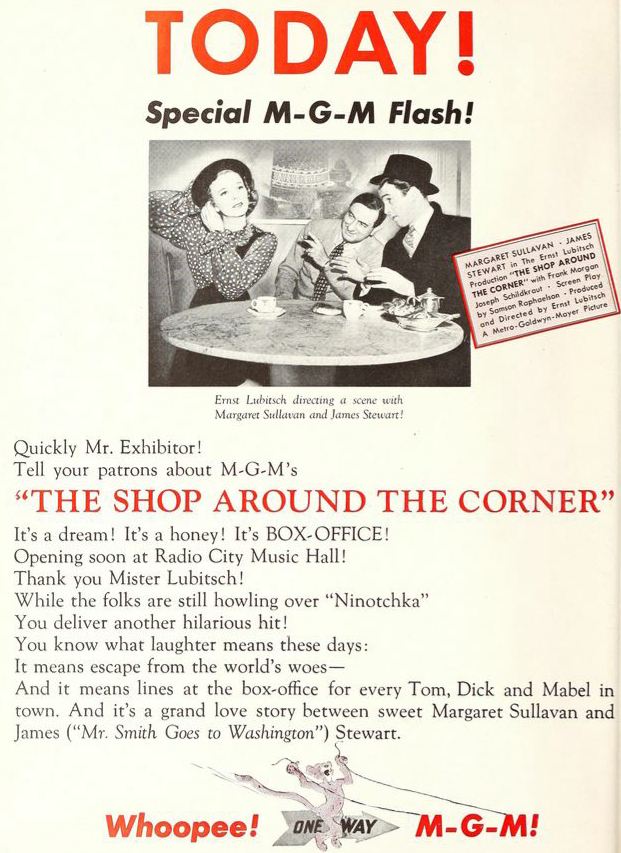 The radio adaptation was written by Norman Corwin.
Possibly because it was the first show of the season, there were many ads for the program, including this display ad which appeared in the Syracuse Herald-American, Syracuse, NY.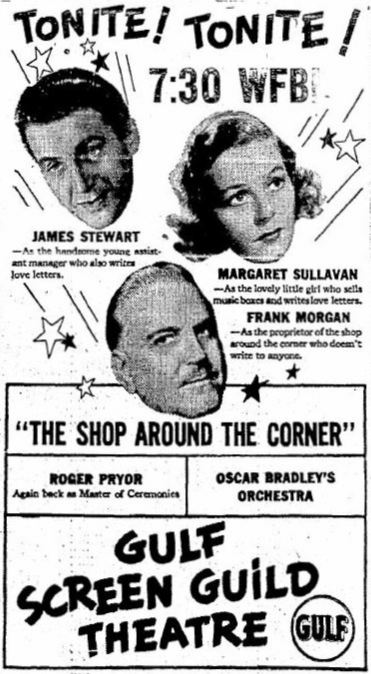 This preview from the Harrisburg Telegraph, Harrisburg, PA, also featured a photo of Stewart.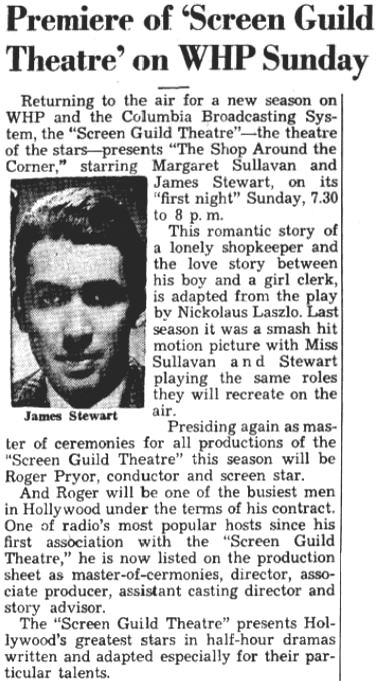 Jean Hersholt, president of the Motion Picture Relief Fund, speaks before the play begins. He talks about the home for aged and needy, which was about to be constructed, who have given years of service to the motion picture industry . Much of the money raised for that community had come from this program. The actors' fees were donated to the fund.
Martin (Stewart) and Klara (Sullavan) work in Mr. Matuschek's gift shop in Budapest. They don't have a very good working relationship. Martin has been writing letters back and forth to a girl whose ad he had seen in the newspaper. When he finally meets the girl, it turns out to be quite a surprise to both.
Act 1:
Act 2:
We're adding this new information which appeared in the October 1, 1940, edition of the Motion Picture Daily.

Also, here's a photo from the January 1941, issue of Radio and Television Mirror showing (L to R) Roger Pryor, Jimmy Stewart, Jean Hersholt, Margaret Sullavan and someone identified as the script writer. The script writer was Norman Corwin and, to me at least, this doesn't look like him.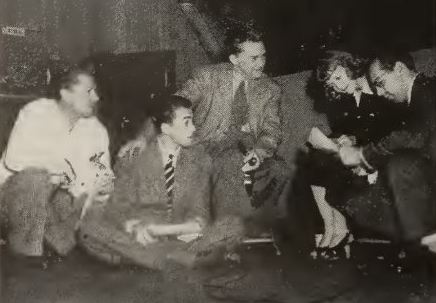 We recently found this review of the program in the October 12, 1940, edition of Billboard magazine.