In the second show of the series, Britt finds himself in Temple City helping an escaped convict who has cleaned up his life. At this time, the show was being sponsored by Coleman and that company was advertising the program as shown by this partial Coleman ad from The Pantagraph, Bloomington, IL, on the day of the broadcast – September 27, 1953.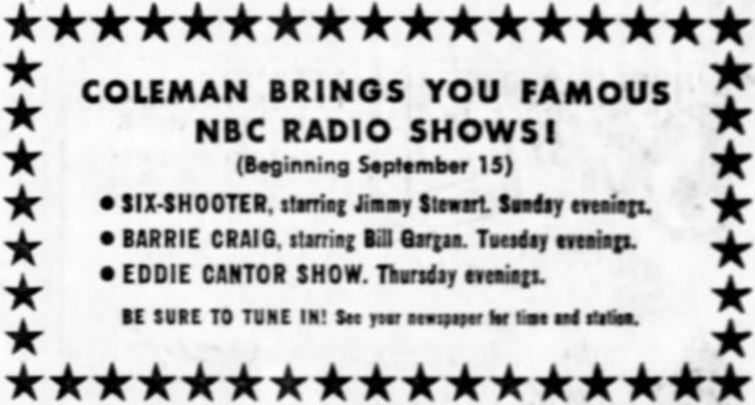 This short clipping from Sponsor magazine also tells of Coleman's sponsorship.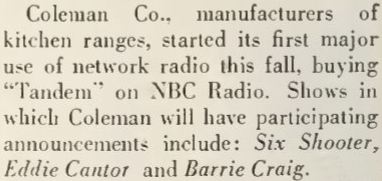 This display ad, also from the day of the broadcast, appeared in the Syracuse, NY, Herald-Journal:

Although not strictly an article about The Six Shooter, this article from The San Bernardino Sun-Telegram, San Bernardino, CA, does talk about the show: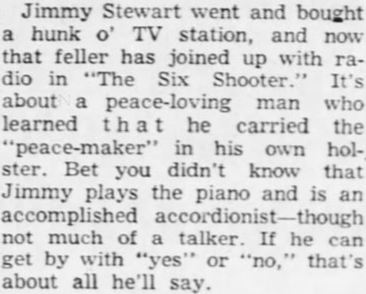 The Coward co-stars Michael Anne Barrett as Sarah Fetter, Herb Ellis as Will Fetter, Will Wright as Noah Temple and Howard McNear as the hotel clerk.
Here, in two parts, is The Coward, complete with the original Coleman commercials.
Because the 1953 and 2015 calendars match-up exactly by date and day, look for a new The Six Shooter episode each Sunday on the sixty-second anniversary of its original broadcast.