It took 52 years, but an official soundtrack CD for this film was finally issued in 2014 (Kritzerland KR 20028-4). All music was composed by Cyril Mockridge. There are 16 tracks included on the CD, plus bonus tracks. The CD also features the Mockridge soundtrack for Donovan's Reef, another film starring John Wayne and directed by John Ford.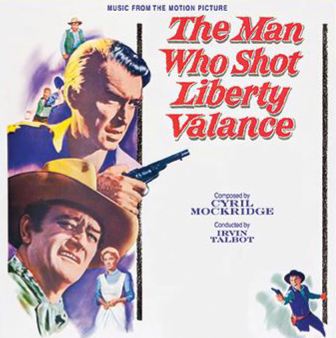 The tracks included:
Main Title
Cactus Rose
Sad Reunion/Overland Stage
Sweet Genevieve/Saloon Music
Music of the Bars
A Shapely Student/A Rose for Hallie (consists of Ann Rutledge Theme by Alfred Newman)
Whiskey Bottle/Tom's Adios
The Pen and the Sword (includes Ann Rutledge Theme by Alfred Newman)
After Election – Part 1 & 2/Peabody's Shadow
Carmela/Jarabe Tapatio/Shinbin
Tears and Tenderness (includes Ann Rutledge Theme by Alfred Newman)
Longhorne is Nominated/Stoddard is Nominated
Tom Shot Liberty
The Last of Tom
Cactus Rose Again (consists of Ann Rutledge Theme by Alfred Newman)/Finale (includes Ann Rutledge Theme by Alfred Newman)
The bonus tracks were:
Mexican Celebration/Saloon Piano Sweetener
Utility Drum Track
The CD credits were:
Executive Producers: Bruce Kimmel, Lucas Kendall
Executive in Charge of Music for Paramount Pictures: Randy Spendlove
Soundtrack album coordinators: Kim Seiniger, Eric Ybanez
Audio Restoration: Chris Malone
Mastering: James Nelson
Art Direction & Package Design: Doug Haverty for Art + Soul Design
Composer: Cyril Mockridge
Conductor: Irvin Talbot
Orchestrations: Leo Shuken, Jack Hayes
We just recently added this sheet music for the Ann Rutledge Theme to our collection.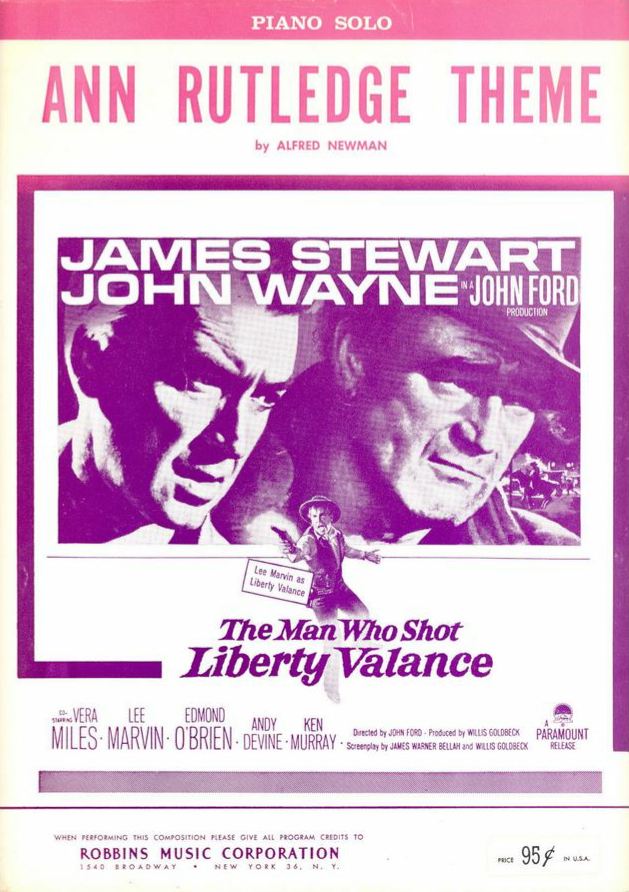 The Man Who Shot Liberty Valance (Burt Bacharach-Hal David) was written for the film and became a #4 hit on the Billboard chart in the U.S. for Gene Pitney (Musicor 1020). Just why the song was not used over the film's credits is not known for sure. Reasons given include that it sounded too modern for the film and that John Ford, the film's director, didn't like it. Pitney himself said in an interview that he was in the studio about to record the song when "… Bacharach informed us that the film just came out." Paramount Pictures apparently paid for the recording session. Of course, that didn't stop the song from being a free commercial for the film every time it was played on the radio.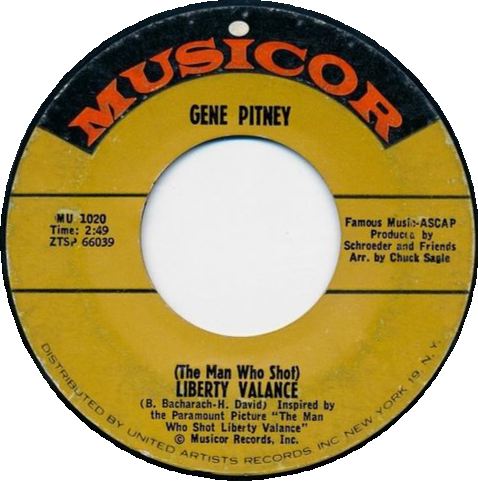 This full-page ad appeared in Billboard on April 14, 1962: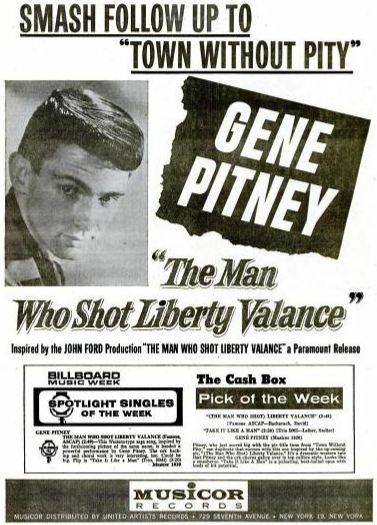 Pitney's recording can also be found on the CD Wand'rin' Star (Bear Family BCD 16166AR) which also features a Stewart song from Night Passage.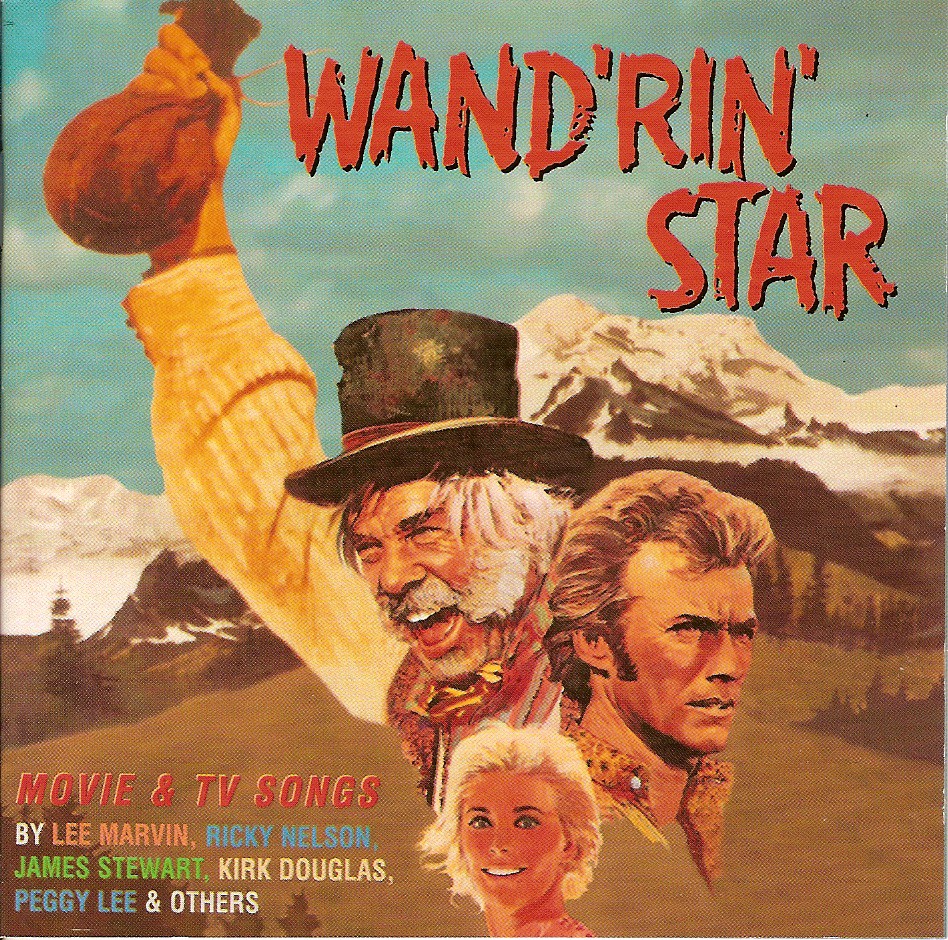 Several other artists also released singles of the song at this same time in 1962. None became a hit. The first was by the Fairmount Singers (Dot 16340).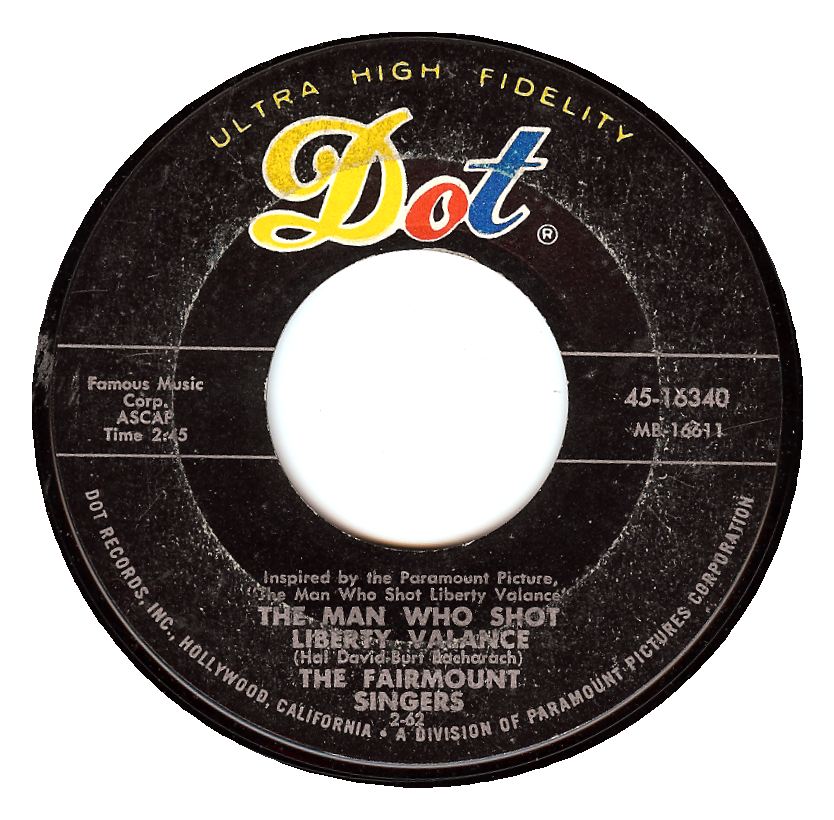 The Fairmount Singers were a folk group specializing in four-part harmony. They had been original members of the New Christy Minstrels before leaving to form their own group. The members were: Dave Ellingson, Hal Ayotte, Rob Mills and Terry Tillman. This single was also issued in Japan (Dot JET-1098). In that country it came in a picture sleeve which featured a photo of Stewart.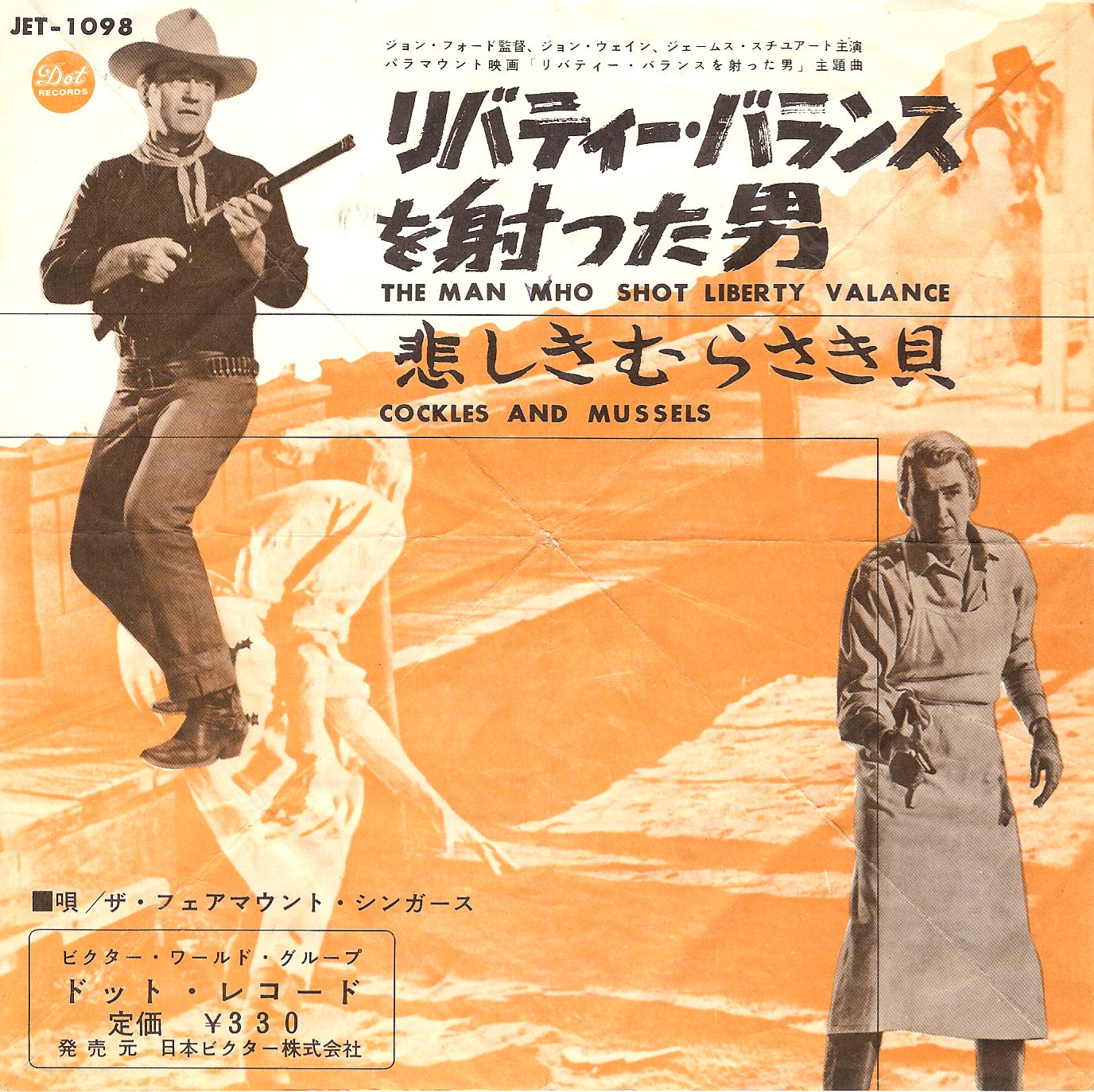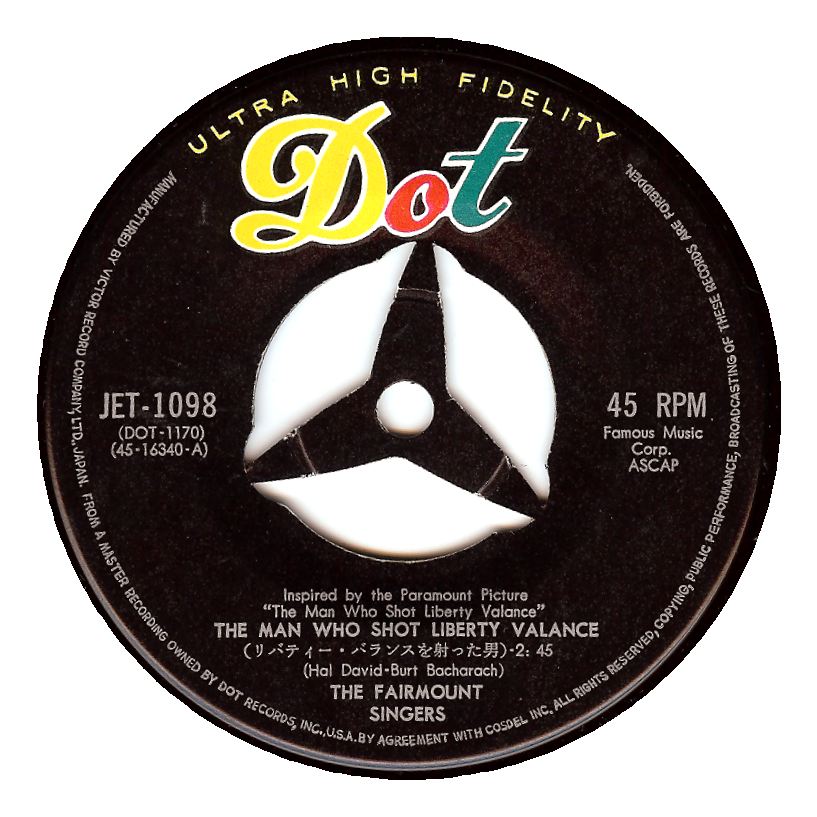 The song was also recorded by Jimmie Rodgers for his album No One Will Ever Know (Dot DLP 3453 (mono)/25453 (stereo)).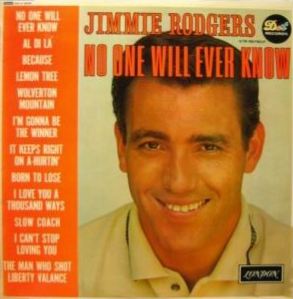 Of more interest to collectors is the Rodgers EP which was issued in Portugal (London LES 560). The artwork for this EP featured the stars of the film – Jimmy Stewart and John Wayne on the cover.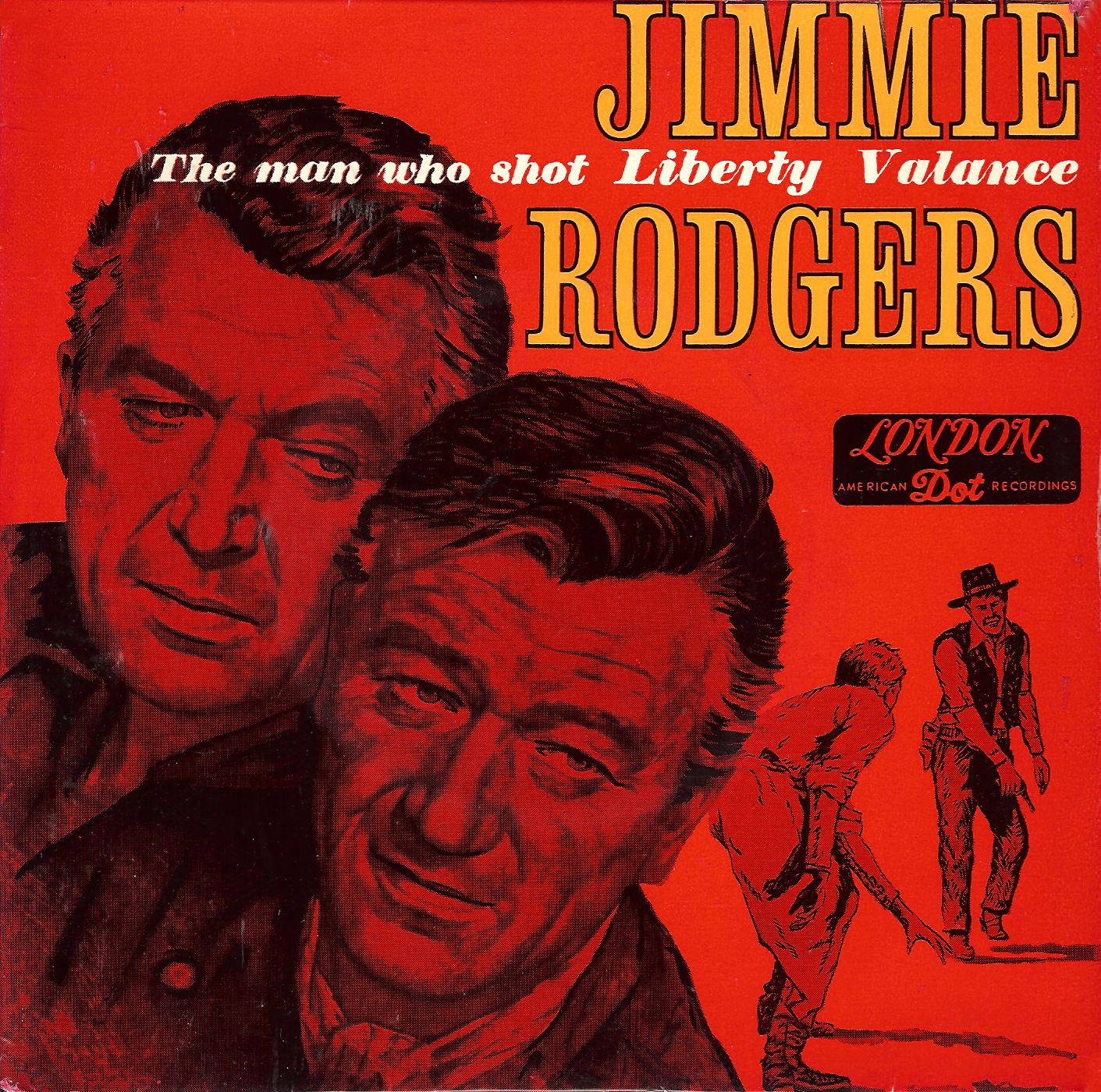 The Gene Pitney version became so popular that at least three different versions were recorded and released on the low budget sound-a-like labels Hit, Twin Hits and Caravelle.
Fred X. Brown (Hit 16)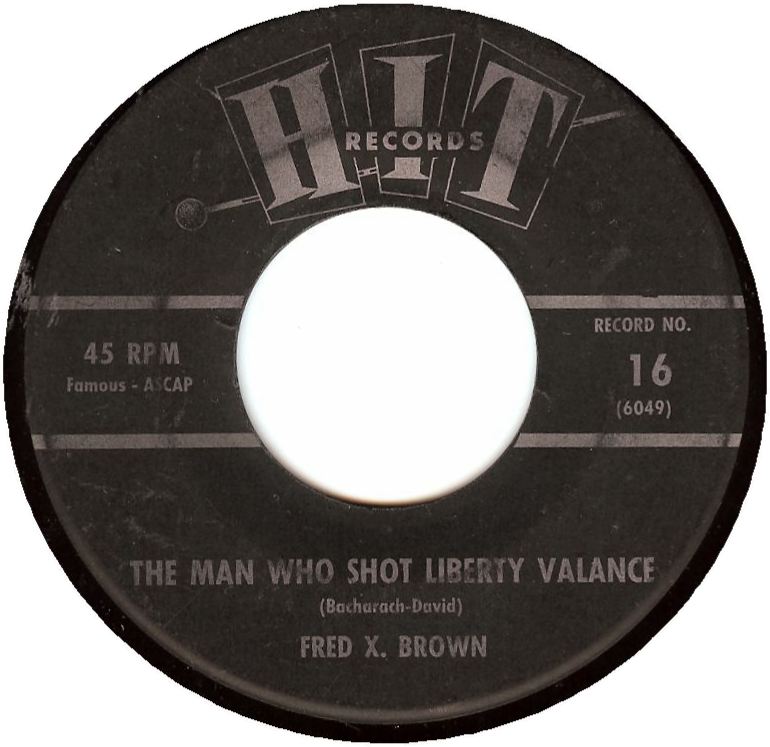 Ray Garnett (Twin Hits 2014)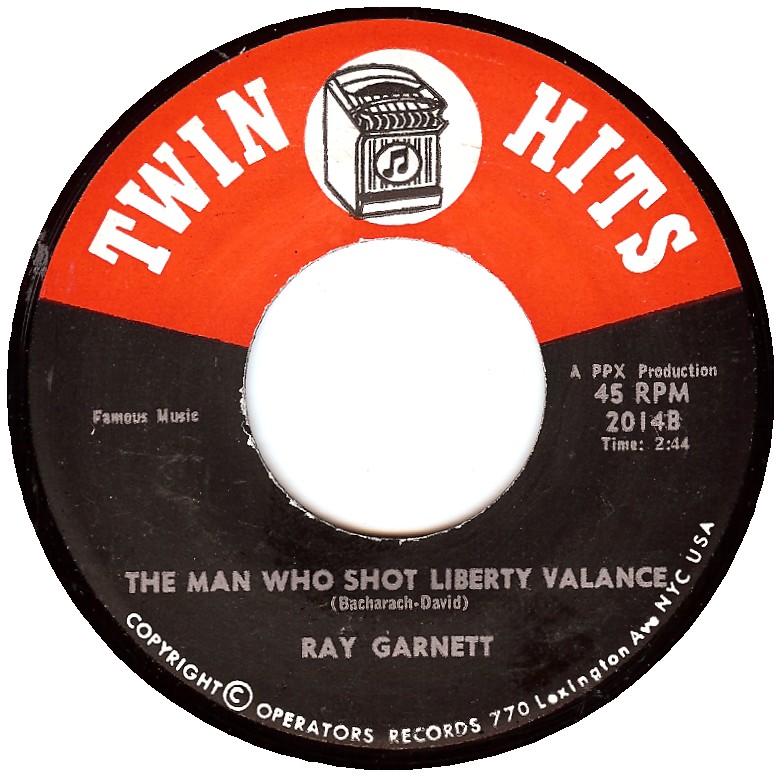 Bob Lester (Caravelle 2000)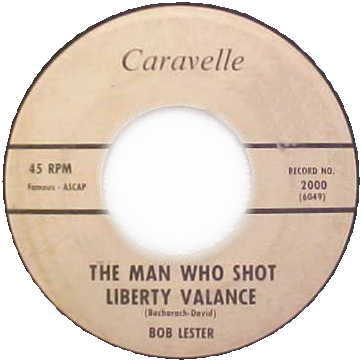 Bob Lester is a pseudonym used by musician-singer-songwriter Buzz Cason. As a singer he recorded under the name Garry Miles and had a #16 hit in 1969 with the song Look for a Star. Cason has also written many rock and country hits, with the best know one most likely being Everlasting Love – a 1967 hit for Robert Knight and a #1 1974 hit for Carl Carlton.