NBC produced an audition show for The Six Shooter sometime in June or July of 1953, after the Hollywood Star Playhouse broadcast of April 13th. The Hollywood Star Playhouse program was edited and used as the audition. A new opening announcer narration was added to reflect the new series title:
By the time the series actually went on the air on September 20, 1952, the line "But, the gun has killed and the man has killed" would be dropped from the opening.
The robbery scene which had opened the Hollywood Star Playhouse show was dropped, thus eliminating the small part played by Bert Holland, who had played the robber.
Instead of a commercial at the end of the first act, Stewart tells how he came to star in The Six Shooter.
Jimmy returns after the show's ending to close with a fake commercial for a nonexistent product.
This was only an audition show for potential sponsors the listen to and decide if they wanted to become involved. It was not aired in this form. With some editing and additions, it was broadcast as Ben Scofield on November 1, 1953, as the seventh program in the series.
Here is the entire show in two acts.
Act 1:
Act 2:
A few weeks later, NBC  decided to air the program in the fall and newspapers began to make the announcement. Some, like The Decatur Daily Review, Decatur, IL (July 1, 1953) got the information correct.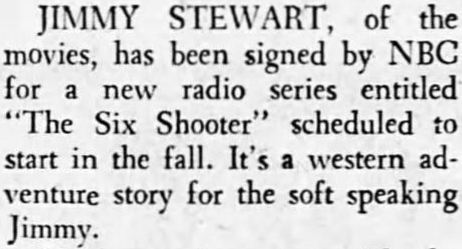 Others, like the Chicago Austin News, Chicago, IL (August 12, 1953), got the broadcast medium incorrect.